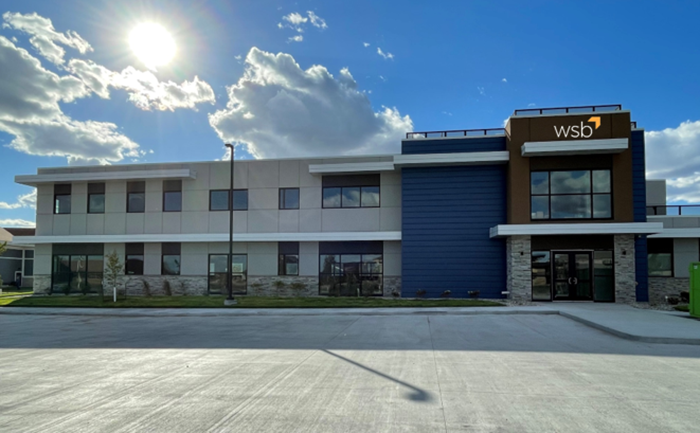 May 31, 2023
By Jess Karls, Director of Transportation Design
WSB's investment in North Dakota represents an exciting opportunity for current and potential clients in the region. With the opening of the new Fargo office, we have shown our commitment to delivering innovative solutions that benefit the local infrastructure and surrounding communities. This investment will enable WSB to expand its services, leading to the execution of more projects and improved project delivery.
WSB's investment in North Dakota is particularly meaningful to me and why I chose to join the firm. The firm's emphasis on using cutting-edge technology to shape projects and the positive impact our final products deliver to communities is one of the reasons I am excited to be part of WSB. I look forward to what the future holds for the new Fargo location.
Meeting Community Infrastructure Needs
One of the key benefits of WSB's investment in North Dakota is the opportunity to work on projects that positively impact the local community, like Trunk Highway 10 and 75. Projects that help with the flow of traffic, support small businesses and improve the lives of residents while supporting our clients is a top priority. We listen to the community's needs and desires and are eager to work with local and state governments to help improve infrastructure.
This expansion also presents exciting long-term prospects, including the potential to work with tribal, cities, counties, utilities and Department of Transportation (DOT) organizations.
Recruiting and Retaining Top Talent
The Fargo team will help WSB's comprehensive services grow, providing clients in Western Minnesota, along the North Dakota border and even South Dakota with access to many experts. The new location is strategically placed in the same community as North Dakota State University to attract new talent into the workforce. Our commitment to positively impacting communities through building what's next in infrastructure can inspire and retain talent who see the value in this work.
Why WSB
What sets WSB apart from other firms is our commitment to fostering an environment that supports engineers and problem-solving. This approach leads to advanced project delivery and innovative solutions. By taking educated risks, we are not afraid to be the first out the door and deliver innovative solutions to our clients.
By listening our clients' needs and recruiting and retaining top talent in the industry, we are well-positioned to deliver innovative solutions that benefit local infrastructure and surrounding communities for many years to come.
Jessica brings 15 years of experience in roadway design and ROW planning. She brings expertise in innovative design that minimizes environmental impact, improve safety and mobility, while balancing construction costs, constructability, and service life of the project. Her comprehension of design and leadership abilities empowers design teams to work efficiently, while providing an elevated level of quality. Jessica will focus efforts on driving growth and expansion in our North Dakota market and will be based in our Fargo office. She will also support the entire Transportation division and help manage large scale transportation projects.
[email protected] | 701.400.4552