Civil engineering is the foundation of the places, spaces and systems that we use in our daily lives. Technicians play a critical role in ensuring the places we live, work and play – like roads, bridges, parks, homes, school, and even stadiums – are safe.
Opportunity+ focuses on preparing participants for work in Surveying and Construction Materials Testing. People find these careers satisfying if they:
Like being outdoors
Enjoy a change of scenery
Thrive working on a variety of projects
Are interested in civil engineering and construction
Like working with variety of people
Can work independently and as part of a team
---
Surveying
Survey crew members collect the data needed for construction and development. They bring maps to life by identifying points, places, and features in real life. That information is used to design and build almost everything around us.
What it's like on the job:

You will assist the Survey Crew Chief with all day-to-day operations of a two-person or three-person survey crew on a wide variety of public and private projects. Specific duties include:
Assist Survey Crew Chief in gathering thorough and accurate data
Set stakes for construction surveys
Operate GPS and robotic Total Station
Check calculations
Set-up, calibrate, use and maintain survey field equipment
Keep the survey vehicle clean and organized
Travel, including overnight stays, is occasionally required
The career pathway:
With hard work, dedication, and consistent progress you can reach new heights:
Labor Crew | Entry Level | $15+/hour
Instrument Person | 2+ years of experience | $18+/hour
Crew Chief | 7+ years of experience | $25+/hour
---
Construction Materials Testing
Construction materials technicians verify that the materials used in construction  meet project specifications. Typically, testing is conducted as a project is being built. Technicians perform field testing to check the material's physical properties such as air content, workability, temperature and density. Samples are also retrieved for laboratory testing of flexibility, strength, grain size and other mix properties.
What it's like on the job: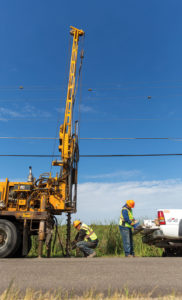 Perform sampling and testing of a variety of soils and construction materials in the field and/or in the laboratory
Be responsible for explaining and enforcing project specifications related to sampling and testing of construction materials
Maintain and record logs of daily work, tests performed, and time and materials expended
You may also spend time in the field providing inspection of construction operations and evaluation of the contractors' work
The career pathway:
With hard work, dedication, and consistent progress you can reach new heights:
Engineering Technician, Entry level | $15+/hour
Engineering Technician, Mid-level | 2+ years experience | $18+/hour
Engineering Technician, Experienced | 5+ years experience | $23+/hour