June 12, 2023
By Shannon McGrath, Director of Asset Management Planning, WSB
Infrastructure asset management is the process of operating and maintaining assets throughout their lifecycle; managing performance, value, and risk to achieve organizational objectives. Many communities face significant challenges in maintaining assets and aging infrastructure, from roads to bridges to water and sewer systems. As infrastructure ages, it becomes more expensive to maintain and repair. In some cases, it may even become necessary to replace it altogether.
Why Asset Management Matters
Without an asset management strategy in place, jurisdictions struggle to manage their assets, resulting efficiently and effectively in communities failing to utilize data to understand their inventory, maintenance needs, and replacement requirements. Asset management is crucial as it minimizes risks and expenses while maximizing resource utilization, reducing maintenance costs, enhancing infrastructure service reliability, prolonging infrastructure lifespan, and facilitating informed decision-making for infrastructure investments.
Fully Integrated & Proactive Asset Management Makes All the Difference
Proactive asset management requires jurisdictions to follow the fundamentals of asset management. We developed a maturity scale to share these fundamentals which can be used by any organization that owns, operates, and/or maintains infrastructure assets. The purpose of this scale is for an organization to identify what current efforts are in place and what steps of progression are needed to move them toward full, proactive asset management. Knowing where to start and the road ahead is crucial to ensure the efficient use of resources and enhance the overall quality of their infrastructure.

When working with organizations to create and implement asset management fundamentals, we focus on a structured and continuous approach. It begins by ensuring the right stakeholders are involved and creating a cultural shift to move from a reactive to a proactive approach. Successful asset management creates a centralized system of record, helping to reduce risk and uncertainties, allowing for a greater shared asset to data, and ensuring organizations can seamlessly collaborate across departments to improve public services. Our dedicated team takes a holistic approach with multidisciplinary experience to guide clients through asset management maturity.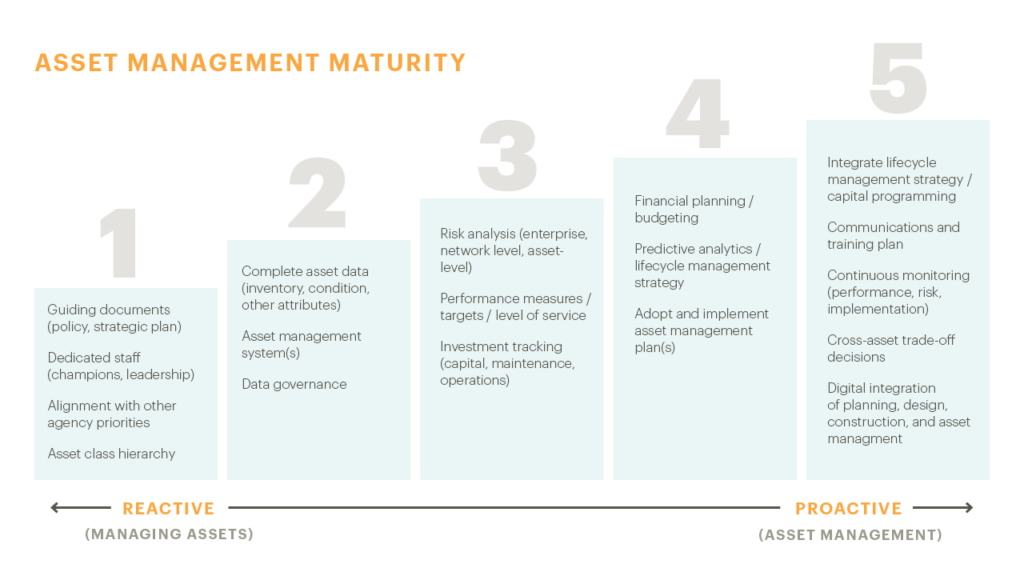 Shannon has spent over a decade advancing asset management at local, state, and national levels by serving on asset management committees, advisory panels, and project management teams. While working at MnDOT, Shannon directed the agency-wide asset management planning including projects, research, policy, innovation, strategic planning, and implementation in collaboration with internal and external stakeholders.
[email protected] | 651.492.9291