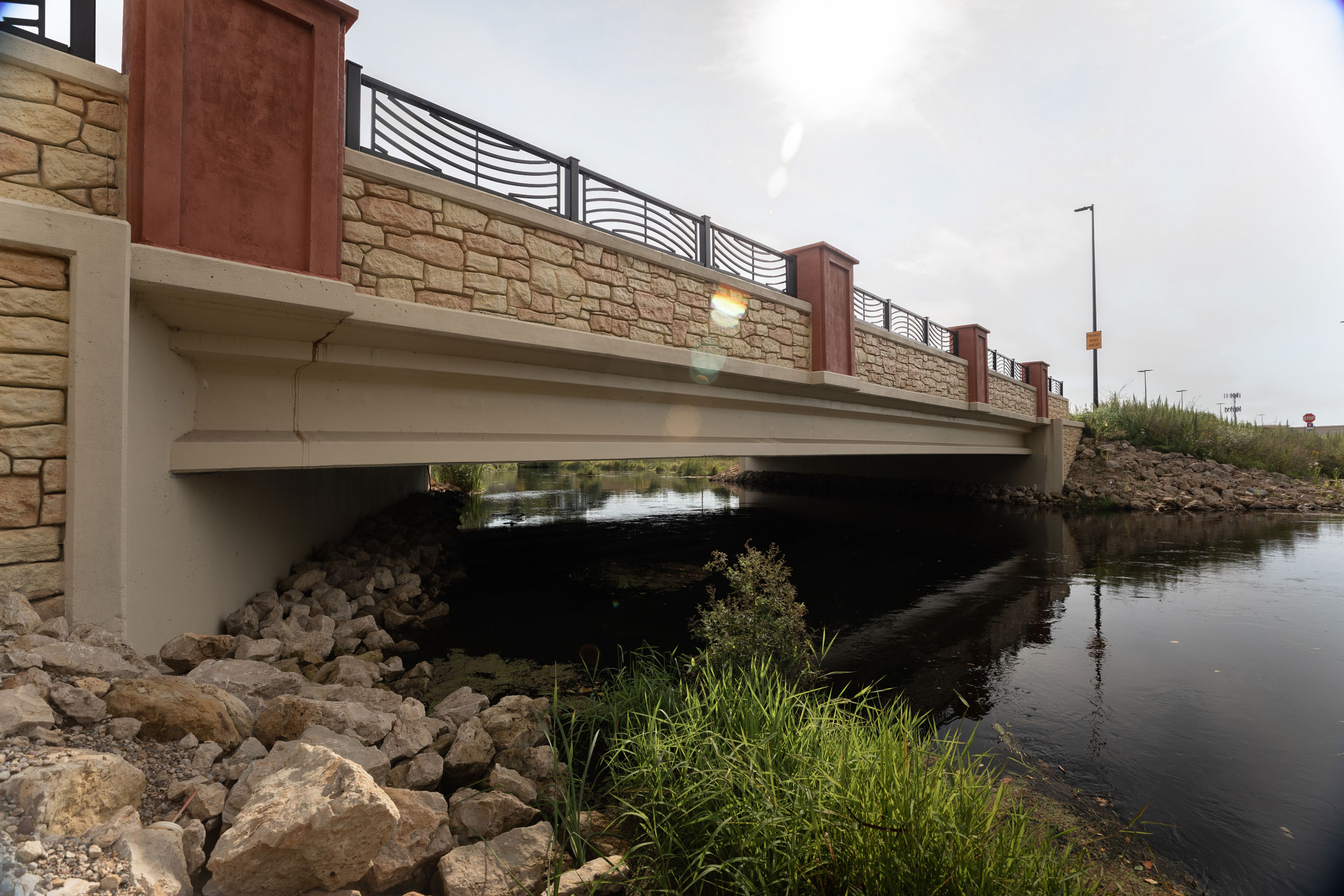 By Paul Kivisto, P.E., Senior Structural Engineer, WSB
Did you know that the average life span of a bridge is 60 – 70 years? There are a number of ways to reach or exceed that average. Newer materials like high performance concrete and epoxy/stainless steel rebars certainly improve the quality and longevity of a bridge. Regular bridge inspections are not only legally required, but by inspecting and documenting issues with your bridges you can hopefully slow the expected deterioration and make repairs early which often costs less.
MnDOT, counties, cities, townships, and tribal governments are all responsible for managing bridge assets within their jurisdiction. Many of these entities have inspectors on staff to perform inspections, while others contract out that work to private firms like WSB. Maintaining regular and accurate inspection data is necessary to ensure public safety, reduce liability, maintain accurate budgeting, and comply with state laws and regulations.
Five important aspects of bridge inspections
About Documents, Frequency, and Inspection process
MnDOT releases the Bridge and Structure Inspection Program Manual (BSIPM) which summarizes inspection guidelines. In Minnesota, all bridges and culverts over 10' long and carry traffic or are over roadways must be inspected. An initial inspection is required within 3 months of opening to traffic. The typical inspection frequency is 24 months, with shorter time periods for bridges in poor condition. The bridge owner can request longer than 24-month cycle for culverts. The latest version is May 2021 and can be viewed here: https://www.dot.state.mn.us/bridge/inspection.html.
Bridge Condition Codes
BSIPM Chapter B – Bridge Inspection Field Manual and Chapter D – Recording and Coding Guide should be used by inspectors during all inspections. Physical condition and geometric properties of each bridge are recorded on inspection and inventory forms.
Overall condition codes from the National Bridge Inventory (NBI) range from 9 (new) to 0 (closed) and track the overall condition of the superstructure, substructure, deck, culvert, and other elements.
More detailed element level inspections record percentages of elements in conditions ranging from 1 (new) to 4 (severe deterioration).
The owner must report inspection and inventory data through the Structure Information Management System (SIMS) database to MnDOT every year. MnDOT in turn provides the data to the Federal Highway Administration (FHWA).
Channel Inspections/Waterway/Scour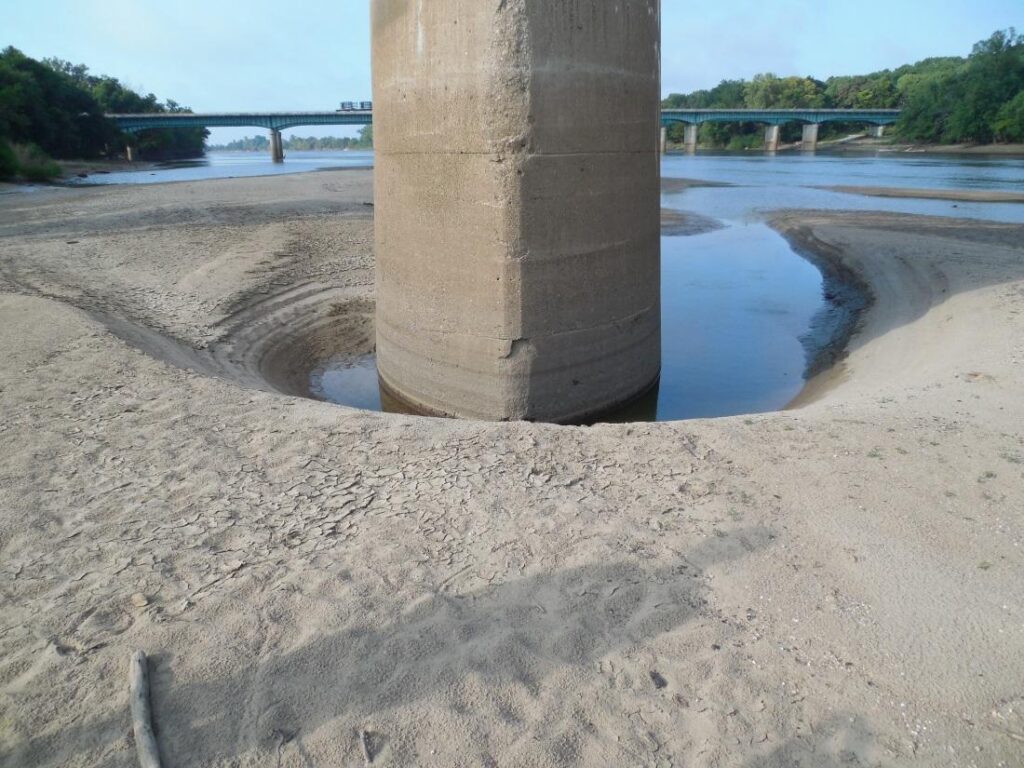 One of the leading causes of bridge failures is scour or undermining of the substructures in, or adjacent to, water. Scour is the term used to describe the erosion of soil surrounding a bridge's foundation. When fast-moving water moves sediment from around the foundation, it creates scour holes adjacent to substructures that must be identified and monitored. Degradation of channels can cause shifts in the channel and may increase the risk of undermining. Bridges that cannot be inspected by wading and probing must be included in the statewide underwater inspection program on a 48-month cycle. Channel cross-sections are required for scour critical bridges and recommended for unknown foundations and scour susceptible bridges.
Additional causes of bridge deterioration to be aware of include:
Rebar and steel corrosion due to chlorides
Delamination and spalling on concrete members
Shrinkage cracking in concrete
Fatigue cracking on steel beams
Vehicle impacts to members
Leaking expansion joints
Bearings moved out of position
Timber decay
Drone Inspections
Increasingly, drones are used to provide access to hard-to-reach portions of bridges. They have photographic and video capabilities that allow them to identify cracking, spalling, and other deterioration that is otherwise challenging to document. Drones have the additional benefit of using Infrared (IR) cameras to identify delamination and distress below the surface.
Engaging with the Inspection Data
Agencies should use inspection data to help identify maintenance, preservation, improvement, and replacement projects. It is critical that accurate inspection data be maintained to track deterioration over time and prioritize maintenance work. Additional detailed inspections may be needed to help put together a system-wide scoping analysis or bridge management plan (BMP). A thorough BMP can help identify funding needs over a given budgetary cycle.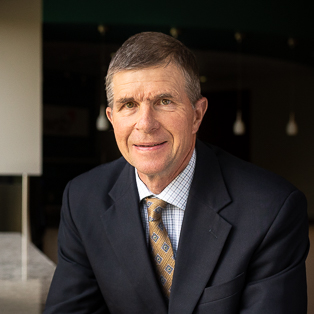 Paul has more than 36 years of experience in bridge construction, bridge management, bridge inspection, and bridge design. In his role as Metro Region Bridge Construction Engineer for MnDOT's Bridge Office, Paul was responsible for writing foundation recommendations, bridge preservation and improvement recommendations, constructability reviews, recommended repairs, and identified projects for inclusion in MnDOT's bridge preservation program.
[email protected] | 612.201.9163