By Brandon Movall
Aug 1, 2016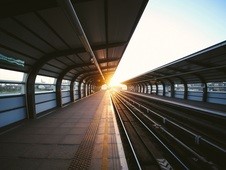 With the state of America's infrastructure declining due to climate change and limited funding, today's engineers and scientists must adopt creative and sustainable solutions. In 2011, the American Society of Civil Engineers (ASCE), the American Council of Engineering Companies (ACEC), and the American Public Works Association (APWA) came together to revolutionize the way engineers plan, design and build. The result was Envision, a holistic rating system for sustainable infrastructure.
Envision is a rating system to help project teams incorporate higher levels of sustainability at each step of a project, from assessing costs and benefits over the project lifecycle to evaluating environmental benefits and using outcome-based objectives. Envision considers social, environmental, and economic factors of projects (a process called the Triple Bottom Line), rather than only focusing on economic factors. Envision uses a scorecard of 60 credits divided into five categories that reflect all aspects of the Triple Bottom Line:
Quality of Life
Leadership
Resource Allocation
Natural World
Climate and Risk
By tallying the credits achieved throughout the project lifecycle, Envision is able to effectively rate proposed infrastructure options in a way that is easy to communicate to clients, consultants and owners.
While there are many sustainability rating systems out there, there are a few things that make Envision the best option:
Envision rates all types of civil infrastructure, such as transportation, water, energy, information, and landscape infrastructure.
Envision covers the entire life cycle of a project, from the first meeting of the project team to post-construction maintenance.
Envision is free to use. Anyone can sign up for an Envision account and have access to the guidance manual and scorecard. The only costs involved are if a project is registering for awards through Envision, or if you want to get special training and become an Envision Sustainability Professional (ENV SP). These are optional and are not necessary to use the Envision system on a project.
In addition to individual users, many companies and public agencies across the United States have implemented Envision into their planning, design and construction processes. Benefits to a company or agency include discounted ENV SP certification rates, discounted project award registration rates, exclusive content from the founding organizations, and more. As part of our commitment to bettering ourselves, our clients, and our world, WSB is proud to be recently certified as an Envision qualified company.
To change the world, we must change our practices. Envision is one large step toward planning, designing and building a sustainable future. For more information about Envision in general, visit www.sustainableinfrastructure.org. For more information about Envision at WSB, please contact Katy Thompson, Brandon Movall, Stephanie Hatten, or Ann Wallenmeyer.
References:
"2013 Report Card for America's Infrastructure." 2013 Report Card for Americas Infrastructure. ASCE, n.d. Web. 28 July 2016.
"Envision." Institute For Sustainable Infrastructure. N.p., n.d. Web. 28 July 2016.