WSB was recognized by Bentley Systems, a software company used by the architecture, engineering and construction industry around the world.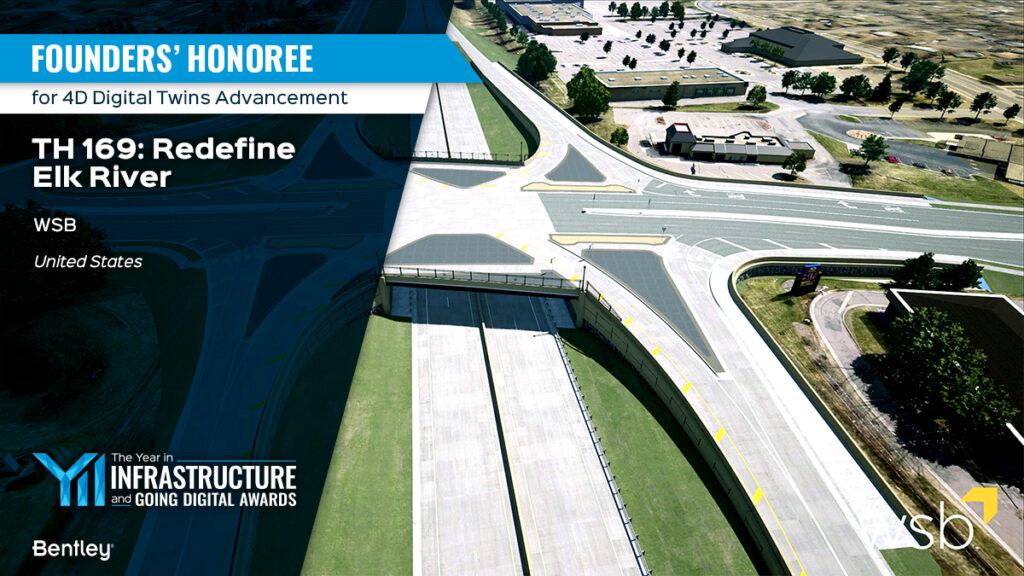 Engineering and consulting firm WSB announced today that they were internationally recognized for their work on the Highway 169 Redefine – Elk River project. The project was the first in the state to be delivered to the Minnesota Department of Transportation (MnDOT) through paperless plans. WSB was selected by Bentley Systems as a Founder's Honoree at the 2021 Year in Infrastructure (YII) and Going Digital Awards.
"To be recognized as not only a national leader, but a global leader in our space, is a tremendous honor," said Bret Weiss, President and CEO of WSB. "We are proud of how our staff have embraced the push into technology and advanced solutions. We made a commitment to be a leader in our industry and this international award is a testament to our collective commitment to that goal."
Bentley Systems is a software development company that supports the professional needs of those responsible for creating and managing the world's infrastructure, including roadways, bridges, airports, skyscrapers, and industrial and power plants, as well as utility networks.
"The TH 169 project in Elk River is the pattern that I hope will get repeated throughout the United States," said Keith Bentley, founder and chief technology officer of Bentley Systems.
The Founder's Honoree award recognizes special projects, individuals or organizations that have set the precedent for infrastructure projects going digital, for environmental / social achievements or advancing the infrastructure profession. The YII is a global event, hosted by Bentley, for executives and practitioners in the world of infrastructure design, construction and operations, who are focused on best practices in technologies for going digital.
"We are proud of this award and look forward to continuing to advance our project delivery now and in the future," said Jon Chiglo, WSB's COO. "We will keep moving forward and we'll continue to drive fast in our industry to set the bar when it comes to technology and supporting our clients and partners with cutting-edge solutions."
The Highway 169 Redefine – Elk River project will redesign and reconstruct three miles of Highway 169 to a new freeway system through Elk River. WSB is responsible for delivering the final design. The project is a partnership project with MnDOT, the city of Elk River and Sherburne County.