Engineering Excellence Awards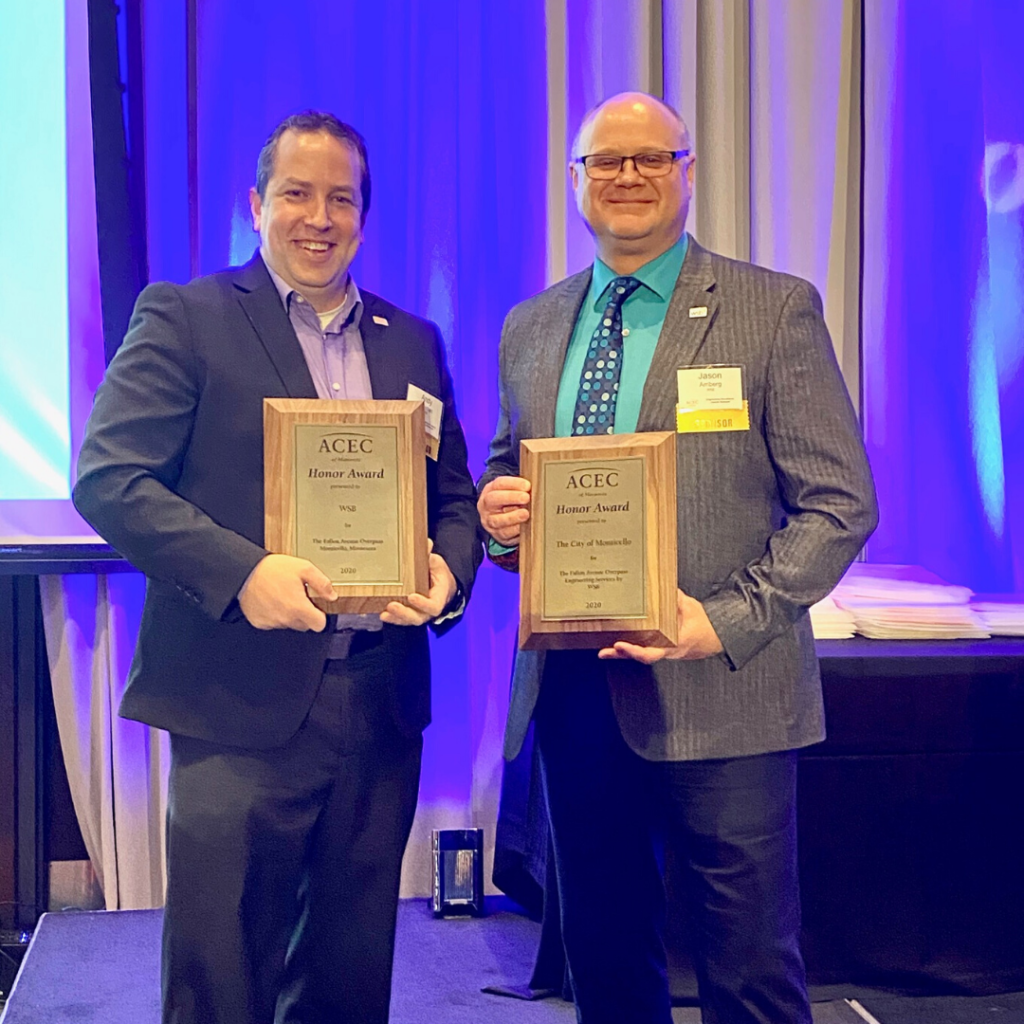 On Friday, January 24, the American Council of Engineering-Minnesota (ACEC-MN) awarded WSB two Honor Awards for the Fallon Avenue Overpass and Minnesota Highway 52: Victory Drive Memorial Corridor at the 53rd Annual Excellence in Engineering Awards Banquet in Brooklyn Park.
The Engineering Excellence Awards Program recognizes engineering achievements that exhibit the highest degree of merit and ingenuity. Entries are based on originality and innovation; future value to the engineering profession; social, economic and sustainable design considerations; complexity and client expectations. Minnesota engineering firms across the state enter their most innovative projects and studies hoping to be recognized for the work they've done to make the state stronger.
The Fallon Avenue Overpass project is known as a bridge that connects the community. Situated along both sides of I-94, the Fallon Overpass serves as a major local connection in the city that improves transportation, economic development opportunities and public safety.
The project was conceived over two decades ago to provide a local gateway for growth and economic development for the community. Since 1994, the city of Monticello has experienced significant growth, and the Fallon Avenue Overpass provides a critical alternative crossing over I-94 to alleviate heavy traffic on Trunk Highway 25, which has approximately 40,000 vehicles per day, and CSAH 18. The over $9 million project included several project partners and required coordination of many stakeholders.
Minnesota Highway 52: Victory Drive Memorial Corridor
Along the shady stretches of Minnesota Highway 22, known locally as "Victory Drive," 1,170 trees were planted to honor veterans from Beauford, Mankato and Mapleton. The trees represent the veterans who gave their lives in World Wars I and II.
The Minnesota Department of Transportation prioritized the total reconstruction of 11 miles of Victory Drive over two construction seasons, beginning in 2017. WSB was selected to complete preliminary and final design of the highway and the replacement of the bridge over the Cobb River, a popular canoeing route. During the project's public outreach program, WSB's Landscape Architectural Group was given the unique opportunity to work with the community to gather perspectives on how best to perpetuate the highway's living veterans memorial for generations to come.