As Vice President, Klasen will help WSB elevate digital delivery workflows and revolutionize industry practices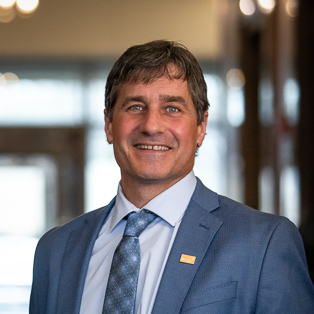 Engineering and consulting firm WSB announced today that Kyle Klasen has been promoted to vice president of survey & digital delivery. This is a new position at WSB, and Klasen will help oversee the firm's strategic vision to expand survey work nationally and develop digital delivery solutions for clients. Klasen has been with WSB for more than 15 years, and in that time has led the firm's growth in surveys along with advancing constructable 3D models to field applications.
"WSB has been designing constructable 3D models for contractors long before it has been part of an engineering function and deliverable. Looking back 15 years when we initiated our 3D modeling efforts, to where we are today incorporating 4D, 5D and visualization is truly amazing," said Klasen. "WSB's digital delivery advancements transfers usable data from design to construction that results in mitigated risk, accelerated schedules, and ultimately saves stakeholders money. I am excited to continue to bring value to our clients and partners, innovate with data workflows from design to construction, and grow WSB's strategic vision for the future."
In his new role, Klasen will focus on growing survey offerings through client development and strategy. He will also oversee strategic hires, partner pursuits, and help facilitate and infuse digital delivery and trailblazing technology into every division at WSB.
"Digital delivery is the future at WSB, and we are excited to further advance that offering with this new role. Kyle has an amazing ability to understand and bridge the needs of designers and contractors, delivering value to clients and partners. I know he will do an excellent job managing and growing his team and helping WSB stay at the cutting-edge of our industry," said Jon Chiglo, WSB's chief operating officer.
WSB delivered the first set of fully digital, 100% model plans to the Minnesota Department of Transportation last year for its Highway 169 Redefine – Elk River Project. The 3D Design Model provided greater flexibility and detail in the design and helped save taxpayer money through efficiency and digital delivery.