THE BUSINESS CASE FOR RENEWABLE ENERGY STRATEGIES.
By Amy Fredregill, Sr. Director of Sustainability and Brigid Lynch, Geomorphologist/Climatologist Hazard Specialist, WSB
With the release of the 2021 Intergovernmental Panel on Climate Change (IPCC) report, the need for businesses, governments, and civilians to accelerate their efforts to build greener economies and avoid a global climate crisis is clear. Businesses and all levels of government are seeing increased climate risk along with demand from customers and community members to find innovative solutions that reduce emissions in energy, transport, and other industries.
The primary strategy to prepare for the future includes increasing energy and water efficiency and creating renewable energy plans while simultaneously managing the impacts that have already reached us, like an increase in extreme weather events.
Renewables and the economy.
Companies and consumers are becoming more selective of who they choose to work with and purchase from, focusing on carbon footprints and those committed to renewable goals, driving growth, and encouraging companies to be innovative. The future of renewables is booming and will ultimately reduce cost and risk, meeting the wants and needs of the consumer. Local governments are also strategically transitioning their operations to be more climate friendly, including securing renewable energy.
Developing predictive tools.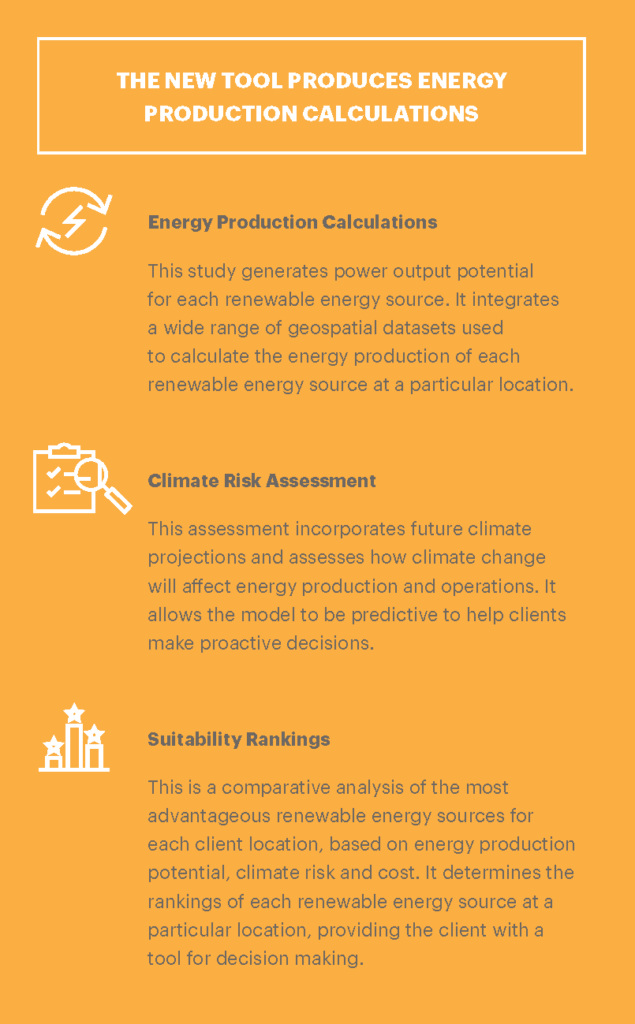 In response to extreme weather events and changing demands, WSB is developing a GIS-based tool to help businesses and government entities strategically transition their operations to renewable energy sources. The tool adapts to client needs and allows them to select which renewable sources should be included in their renewable plans. The tool is predictive, incorporating climate change projections that will affect energy production and operations in the future, and integrates cost and benefits of different sources of renewable energy technologies.
The new tool produces energy production calculations, climate risk assessments and suitability rankings. This data helps companies identify where the risks lie, so they can achieve their future goals, make informed decisions, and come up with solutions to achieve those goals.
The future of renewable energy.
According to the International Energy Agency, renewable energy currently makes up 26% of the world's electricity, but that share is expected to grow to nearly 30% by 2024. As the demand for renewable energy sources and strategies grows, we have the unique opportunity to support a greener world, reduce cost and risk and meet customer demands.
Amy Fredregill
Sr Director of Sustainability
[email protected]
Brigid Lynch
Geomorphologist/Climatologist Hazard Specialist
[email protected]