Following comprehensive plan development, communities in the 7-County Metro are expected to update their zoning ordinance.
By Molly Just, Senior Planner, WSB
Zoning is an important tool to promote and manage growth and to help residents and businesses manage expectations about what they, and their neighbors, can do with their property. Without updating the zoning ordinance many planning goals may not be attainable. Read this article for more reasons about why updating your zoning ordinance is essential.
Ensure your zoning regulations are up-to-date by following these simple steps.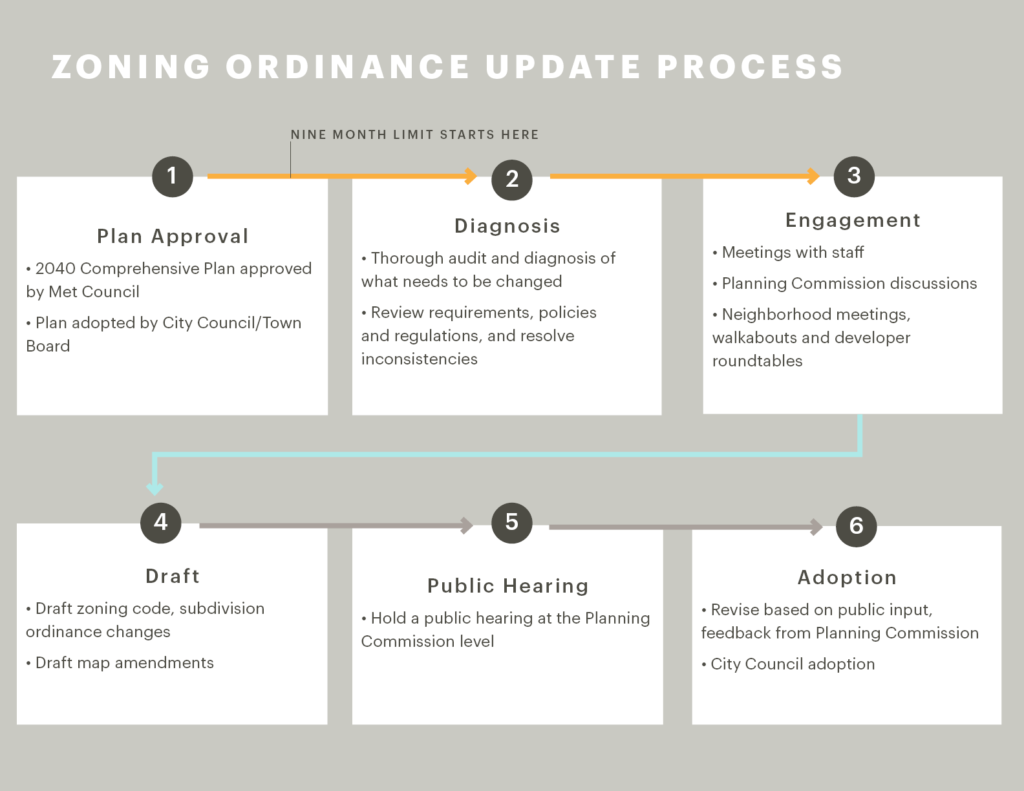 9-month clock starts. State statute and the Metropolitan Council require that "official controls" be updated within nine months of Comprehensive Plan Adoption. This includes zoning text, zoning map and subdivision ordinance.
Plan approval – Your 2040 Comprehensive Plan is approved by the Metropolitan Council and adopted by the City Council or Town Board.
Diagnosis – The process of updating the ordinance should begin with a thorough audit and diagnosis of what needs to be changed. Potential things to look for include: changes to existing district densities and lot requirements to conform with Comprehensive Plan densities; zoning map changes to conform with the Future Land Use Plan; text changes based on Plan goals; incentives consistent with housing and economic development policies; updates to outdated regulations; resolving inconsistencies; updates to minimize non-conformities.
Engagement – Hold meetings to identity issues and potential map changes. Re-engage comprehensive plan stakeholders as allies in support of implementation.
Draft – Be sure to draft any zoning code and subdivision ordinance changes, and map amendments that apply.
Public hearing – Once your zoning update plan is drafted, hold a public hearing for the Planning Commission to discuss further.
Adoption – Revise your draft per the feedback received from the Planning Commission and submit to the City Council for plan adoption.
Communities should also plan to implement and educate during the planning process to ensure a successful outcome.
Plan to implement. Keep track of zoning items during the comprehensive plan update process and in the final year of planning, incorporate an implementation line item into next year's budget. It takes zoning to implement many of the land use and housing goals set forth in the comprehensive plan.
Plan to educate. What is zoning? What can and cannot be achieved through zoning? Plan to keep a list of policy issues that need to be addressed separately, such as property maintenance.
Learn more about how WSB can assist your city with comprehensive planning and zoning services.