By Justin Hansen, Director of GIS Services, WSB
As the world continues to evolve through the advancement of technology, new opportunities and challenges arise that you may, or may not, know the best way to tackle. Staying abreast of new systems and solutions can be a daunting, even overwhelming, task.
At WSB, we use Geographic Information Systems (GIS) to improve the way organizations acquire, understand and use their data. A successful GIS program employs geospatial technology to improve the quality of services, positively impact the decision-making of a community, become a central location for all data and improve overall workflow. To help simplify it for you, we will share some of the most common issues that we encounter and provide some advice on how to handle them.
Unable to retrieve data quickly enough
A properly designed and managed GIS will allow you access to all your organizations information at the touch of a button. Through field to office integration software, your team can enter field data directly from the site of the work and make the data immediately available to you. If you need to be able to verify a critical utility repair in order to calm concerned residents, your team can document the nature of the problem, how and when it was repaired, and include supporting photos or documents.
Unable to locate needed documents
It is time to go paperless. There is no need to continue to store paper documents in your office. They take up unnecessary space, get disorganized and go missing. Have you ever needed to find an as-built in order to verify the location of utility lines and been unable to find the final version? Using a GIS will allow you to convert all your supporting documents into digital files, tag them to any relevant accounts or locations for easy retrieval, and support a greener way of conducting business.
My data is outdated
Using ledgers and spreadsheets to manage your data quickly becomes tedious, time consuming and inefficient. If your system for tracking data involves any of these methods, it is likely current data has not been entered more than once. Imagine you need to share results of a lift station's most recent inspection, but the most current document you can find is 3 years old. This could create a serious problem if you are unable to provide accurate findings. To ensure your group is working with the most accurate data available, a GIS is an easy and organized way to allow anyone the ability to enter information, keep it all stored in one central location, and control access to sensitive data.
My team is not able to work together efficiently
Do you have people working from more than one location? Do you often find you are emailing the same spreadsheet to multiple people to add data? There must be a more efficient way for your team to work together, right? A GIS can allow everyone on your team the ability to access, edit, and report from your groups database without wondering which version is the most up to date. It can save you time and frustration, allowing your group to spend their valuable time on other projects.
Our GIS group has worked with many clients to find solutions to their data problems. If you find yourself wondering if there might be a better way, please contact us. We will help to determine which of our complimentary, introductory services can improve how your organization works.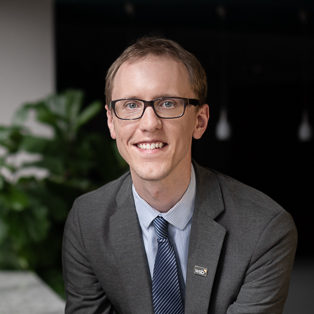 Justin leads the GIS Solutions Team. He is an accomplished Solutions Architect with a broad subject matter and technical experience in enterprise GIS and asset management technology. Justin has over 12 years of experience in the GIS field and holds a Master of Geographic Information Science degree from the University of Minnesota.