Creating spaces for people.
By Erin Perdu, Director of Community Planning & Economic Development, WSB
How do we design for the urban environment? While the term "urban" may make you think of a concrete jungle with a bustling vibe of major U.S. cities like New York City and Los Angeles, an urban environment is any population center, from small towns to mid-sized cities and beyond. According to the U.S. Census Bureau, more than 80% of Americans live in urban areas. By 2050, nearly 90% of Americans will live in cities. When we talk about urban design, we're not just talking about skyscrapers and high-speed trains: we're talking about designing for the communities where many of us already live.
As cities of all sizes are experiencing growth, communities are increasingly looking for thoughtful expertise to foster greater connections between people and places. This can include planning and zoning, economic development, architecture and landscape architecture, transportation and infrastructure, and many other factors that contribute to the look and feel of a space. Urban design can't be defined by one discipline, project or service. WSB's multidisciplinary team of professionals helps communities enhance their urban environments through public engagement and thoughtful, holistic design.
KEY QUESTIONS TO ASK
Urban design enhances the relationship between public and private spaces by considering a variety of issues, including some of the following questions:
HOW DOES SOMEONE ACCESS A BUILDING ENTRANCE FROM A SIDEWALK?
HOW DOES SOMEONE ACCESS A PARK FROM THEIR HOME?
WHERE CAN PEOPLE GO TO CONGREGATE AND CELEBRATE PUBLIC EVENTS? ARE THESE PLACES INVITING TO RESIDENTS OF MANY CULTURES?
WHAT ELEMENTS ORIENT PEOPLE SO THEY CAN FIND THEIR DESTINATION?
HOW DO KIDS GET TO SCHOOL SAFELY?
HOW MANY DIFFERENT WAYS CAN SOMEONE GET TO WORK IF THEY CAN'T OR DON'T WANT TO DRIVE?
HOW DO WE EXPERIENCE DESIGN IN THESE SETTINGS? WHAT INFLUENCE DOES GOOD URBAN DESIGN HAVE ON CULTURE?
HOW IT WORKS
Urban design starts with imagining the possibilities. Typically, we work with clients to create holistic visions for corridors, neighborhoods, and centers in both the public and private realm. We work together to shape cities, influence culture and focus visions.
Communities should look at a specific part of the urban environment they want to make better and take the opportunity to think bigger. Engaging the public in the initial stages is key to understanding how people interact with a place and how these interactions meet their expectations. This results in spaces that are functional, friendly and accessible to the community.
Urban design happens in a variety of places and scales – from a streetscape or alley to a neighborhood, to a district or an entire city. Urban designers create everything from small-scale plans to design guidelines to long-range plans for our communities.
We also consider the economics of the design to create projects that are sustainable, economically viable and even enhance economic productivity within a community. This is derived from conversations with landowners, businesses and developers within the private market that will partner with communities to create these places.
Beyond a single project or discipline, urban design is a comprehensive, multidisciplinary approach that enhances the environment by creating great spaces for people. Urban design relies on the wider context of an urban environment and all its components, including history, human behavior, infrastructure, the economy, climate, ecology, equity and sustainability. By planning with the wider context in mind, urban design creates people-centered places that raise the quality of life for everyone in the community.
Explore our Urban Design page to learn more.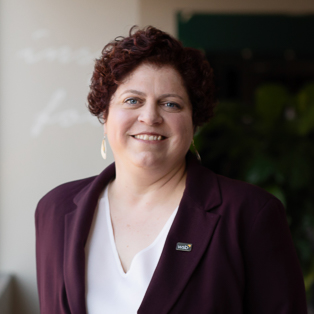 Erin is a community planner and project manager with 22 years of professional planning experience in both the public and private sectors. She has worked as a staff planner and Community Development Director for multiple municipalities.
[email protected] | 763.287.8316