By: Candace Amberg, Sr. Landscape Architect, WSB
Navigating recreational engagement efforts in a post-pandemic landscape.
The importance of parks and trails has become much more fundamental to our communities' wellbeing since COVID-19 hit and stay at home orders were issued throughout the country. As an escape, many of us have explored parks, trails and green spaces near our homes more than ever before. How will this moment in time affect the value we place on these spaces? How will this change the way we design moving forward? How are perspectives shifting and what is the next recreational trend? While there are still many unknowns, as planners and designers we have a unique opportunity to better understand how we can create recreational opportunities while still accounting for safety measures through creative design.
A quick glance at the news or social media has the ability to instantly highlight differences in opinions, and I feel many of the issues that seem to drive us apart are based on a lack of understanding of the varying perspectives behind them. As I am writing this article from my home office, I gaze out my window and see the colorful crabapples blossoms against a lush green landscape that is now exploding with life, something I have anxiously awaited all winter. Others may see this as a full-blown attack of pollen ready to aggravate their allergies and altering their ability to breathe or taste for the next few weeks. Same event, different experience and therefore, different perspective.
I also see a neighborhood that, much like the trees coming out of dormancy, is full of life and activity. I see families playing with their kids out on the street, I see more bikes on the roads than vehicles, and I see people flocking to the open spaces to get some piece of normalcy back into their daily routine, as well as for stress relief and a respite from home schooling. How is this changing the perspectives towards our parks, trails and open spaces?
I grew up on a farm in North Dakota and had ample open space all to myself. I didn't fully understand the value of this space until I moved to Minneapolis. Here, I found dense populations with shared outdoor spaces, but I also found an abundance of renowned public parks, trails and scenic settings like I had never seen before – and trees! Have I mentioned we don't have many trees in North Dakota?
I discovered that these thriving spaces were the direct result of devoted leaders who worked endlessly to develop high quality parks and trails, expanded recreational programs for diverse populations, built successful community centers, and preserved the natural resources that are fundamental to our Minnesota character. We can attribute many of the quality spaces we have today to their visionary work. Places to socialize, play, exercise, take in a walk, or just sit and watch the world go by.
Our collective group of designers and planners see this "time-out" as an opportunity to reach out to our community members and let them know that not only are we are here for them, but that we can work together to improve their quality of life. Now is the time to be the visionary leaders for the next generations and in order to do so, we must better understand the changing perspectives of the community through meaningful engagement.
While COVID-19 has made our engagement efforts slightly more challenging, we are starting with a great toolbox of methods to keep communication efforts strong. These methods will become even more important as we continue to navigate the challenges brought on by COVID-19.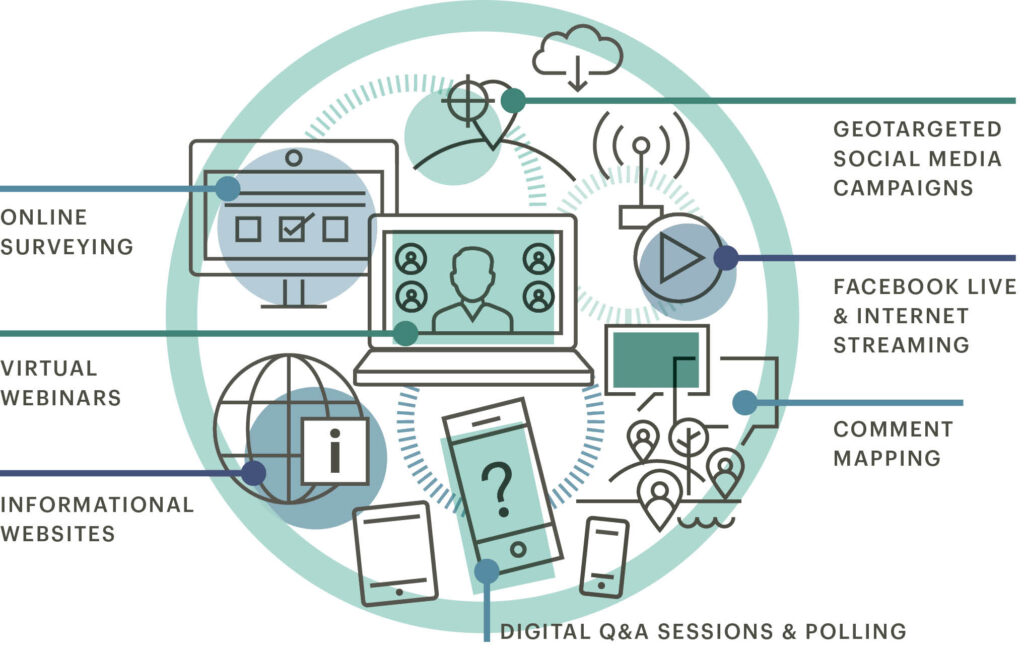 A few examples include:
Interactive Project Maps: Interactive maps, such as Social Pinpoint, are not only convenient and easy to use, they also gather very detailed and relevant information that, in some instances, have aided our design process much more significantly than other engagement methods.
Story Maps: ArcGIS and ESRI Story Maps provide a visually appealing method to catch a user's attention while portraying useful information, including tours, maps, and visual displays.
Social media: Instagram, Twitter, Facebook are a few examples of social media platforms that are being heavily used to reach audiences. They are a great tool to highlight awareness, bolster engagement, and gather quick ideas.
Videos: Anyone with a teen understands the TikTok and YouTube phenomenon. We have found success developing project videos as well as promoting them through social media spending to reach a broader, more targeted audience.
Virtual Meetings: Virtual meetings and presentations provide a great method to interact with task force groups, commissions, councils, etc., and can also reach a more flexible audience who can engage when and where it's convenient for them.
Engagement Events: With a significant increase in park users during almost all days and times of the week, in-person engagement events that follow social distancing recommendations remain a valuable opportunity.
Let's keep moving forward and take this moment to reach out to the community members, understand their perspectives and work with them to create tomorrow's next successful project.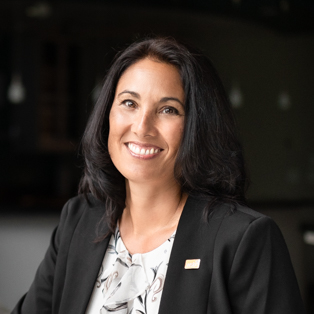 Candace is a registered Professional Landscape Architect in the states of Minnesota, North Dakota and Texas. She has been directly involved in a variety of landscape architectural projects related to parks, trails, system planning, streetscaping, natural resource management, and community engagement since 1996.
[email protected] | 763.231.4848
This article originally appeared in the Summer issue of Minnesota Recreation & Parks Magazine, https://issuu.com/designertp/docs/mrpa_summer_2020_issue_web.