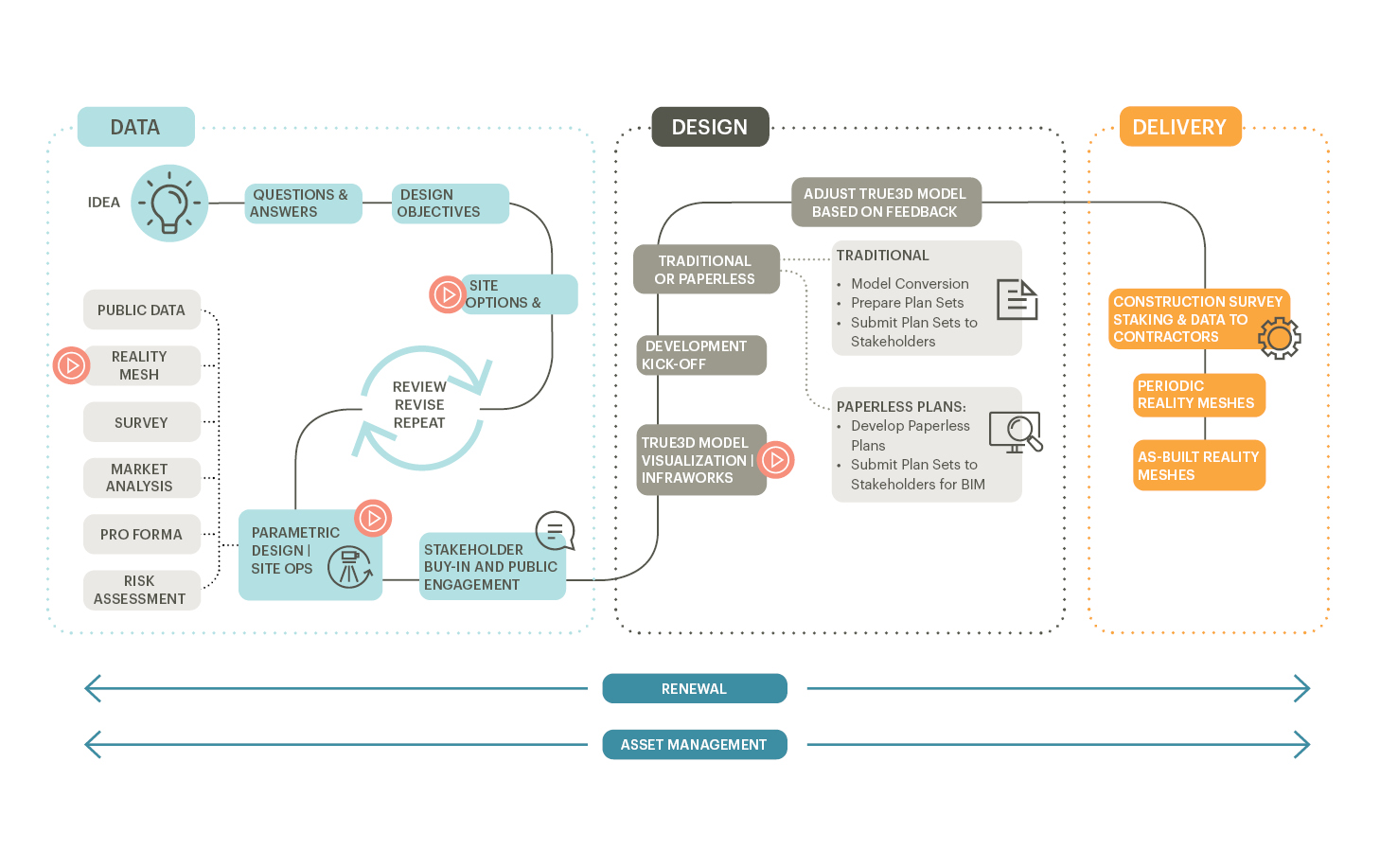 Idea
It all starts with an idea. Determining what you want to develop and why is the first step in any successful land development project. Let's work together to bring your vision to life.
Questions & Answers
How do we turn your vision into a reality? We'll gather all project stakeholders and ask the tough questions. We'll explore potential challenges and take proactive steps to move your project forward, successfully.
Design Objectives
What are your design objectives? Do you have a vision in mind, or should we explore current trends? What will best speak to your audience? When developers, engineers and architects work together on the vision, we achieve the best possible outcomes.
Site Options & Selection
Based on your design objectives and stakeholder input, we'll begin site selection.  Using market matching software, we'll find the best site to accommodate your development needs.
Review | Revise | Repeat
After narrowing our site options, we'll being reviewing each site through parametric design, reality meshes, public data, surveying, market analysis, Pro Forma and Risk Assessment.
Parametric Design | Site Ops
Precise virtual models are automatically part of the design, helping reduce uncertainty in documentation and interferences during construction.
Reality Mesh
Using 3D scanning and drones, we gather data points from above to develop a reality mesh built on accurate information.
Stakeholder Buy-In and Public Engagement
Stakeholders, governing bodies and residents of an area can dramatically shape the way a development comes to life. We'll work with stakeholders to get buy-in along the way, streamlining the development process while gaining public approval.
True3D Model Visualization | Infraworks
Using InfraWorks, we'll create a 3D model, based on data collected, to tell the story of your site. We're able to show grading and earthwork, drainage, elevation and terrain and other custom views to fit your development needs.
Development Kick-Off
We've got the plan; we've got the model – now let's collaborate. We'll gather architects, traffic experts, planners, economic developers, contractors, geohazards specialists and private and public funding resources to work develop your site and bring your vision to life.
Traditional or Paperless Plans
Many organizations, cities and counties rely on paper plans. Our digital process translates to paper or paperless plans.
Adjust True3D Model based on Feedback
We'll make adjustments to the digital twin to ensure the model matches our project delivery.
Construction Survey Staking & Data to Contractors
The model delivers the survey staking and development data to contractors to begin construction.
Periodic Reality Meshes
Throughout the construction process, we'll perform periodic reality meshes to keep your project on schedule, avoid change orders and provide accurate job documentation.
As-Built Reality Mesh
Once construction is complete, we'll provide a final as-built reality mesh and digital twin for final job documentation and asset management.
Renewal
Rehabilitations and site renewals can occur throughout every stage of this process. In the data, design or delivery phases, our process is scalable.
Asset Management
Want to manage your assets with the click of a button? Digital twins can help you manage your assets from a distance and provide real-time information and data to contractors and developers.