On October 5, 2020, WSB will celebrate our 25th year in business. Since 1995, we've added new service areas, expanded our reach and served our communities. Throughout our tenure, our dedicated staff has been a constant.
In honor of our 25th year, we'll be highlighting 25 stories of the people behind the projects.
Story 5 of 25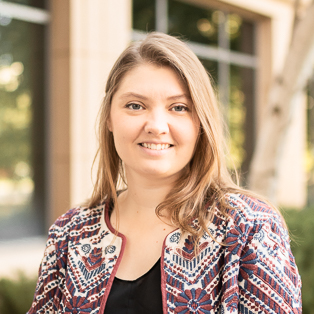 Emily Brown, Municipal Project Manager | Joined WSB in 2015
What do you think is special about celebrating 25 years as a company?
What is impressive about 25 years is that in many ways WSB still feels like a young company. There is such a focus staying nimble and finding ways to improve our business. I think that focus on not just hitting milestones but continuing to improve and seek out new opportunities is what makes WSB special and makes me excited for the next 25 years.
In what ways have you been able to grow professional at WSB?
Part of the reason I came to this company five years ago was to find more opportunities to lead projects and work directly with clients. Since I've been here, I've been encouraged to take the lead on projects and have been supported when new challenges have come along. WSB has given me a home where I have and continue to expand my expertise and reach new goals.
What WSB value do you connect most with? (Bold, Visionary, Authentic, Passionate, Optimistic)
I really connect with our commitment to authenticity at this company. I think trust is such an important aspect of our interactions with clients, other companies, our industry and the public. We build trust by being authentic to who we are, what we know and how we commit to the work.
What about your work gives you energy?
I am very fortunate to be able to directly see my work come to life on a project. I get to see every step in the project life cycle and see how it supports the lives of those in the community. Working closely with city staff, contractors and residents gives me an opportunity to resolve issues on the fly and think creatively. I love being able to have a direct effect on the success of a project.