By Paul Kyle, Project Engineer, WSB
Construction projects are complicated and include many moving parts. One way to help assure a project's success, is to engage in a constructability review early in the design phase of a project to make sure all those moving parts are working together as efficiently as possible. These reviews give a second set of eyes to examine your project's plans and specifications to address areas of risk, identify areas for cost savings, and reduce claims during construction with minimal additional cost or turnaround time. Having an experienced professional provide independent review and suggestions from the viewpoint of a contractor bidding on the project can result in more bidders, better and more competitive pricing, as well as a high-quality and less risky bidding and construction experience.
However, constructability reviews can often become superficial and ineffective due to a lack of understanding of the process, improper implementation, and limited resources. By better understanding the process, the odds of success increase. Below is a list of 5 ways a constructability review can impact a project.
Knowledge of Construction Means and Methods
Effective constructability reviews begin with an in-depth evaluation using knowledge of standard construction methods, materials, and techniques so a project can be analyzed from a construction or field standpoint. Reviewing a project from this perspective evaluates things like the equipment needed to complete the work, environmental or spatial constraints, and installation procedures for the materials being used. Considering these items results in fewer issues during construction and fewer changes in scope.
Understanding of Contract Documents, Specifications, and Special Provisions
Providing a constructable project with transparent and well-defined expectations in the plans and specifications increases the likelihood of more potential bidders on the contract. Clarity in these project documents and specifications supports a clear approach to the project allowing contractors to provide more competitive and accurate bids.
Discipline-Specific Expertise and Resources
Discipline-specific knowledge and resources eliminate the potential for missed or overlooked details resulting in delays or open-ended contract requirements. Expert understanding of specific materials, practices, and specifications leads to an efficiently planned construction project that will stand the test of time.
Understanding of Contractor Scheduling and Bid Methods
Understanding contractor production rates and bid methods reduces the risk of project delays, missed completion dates, and uncertainty in bidding. Knowing how to accurately predict the contractor's approach, sequencing of work, and bid methods will result in reduction of claims, change orders, and non-competitive or high bidding. Thus, increasing the overall likelihood of an on-time and on-budget completion of the project.
Delivering Intended Project Scope
The goals and purpose of a project often have significant influence over the design process but can sometimes be lost in the transition between design and construction. Incorporating construction specific personnel into the design process ensures the project's original objectives are integrated into the plans and maintained during construction.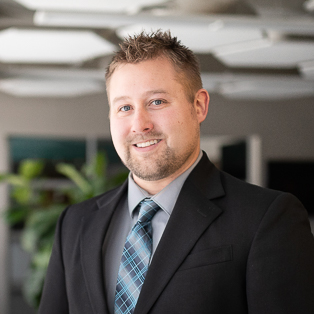 Paul has nine years of experience in construction services and is MnDOT certified in several disciplines. His expertise includes project management, quality engineer, project design, construction inspection, contract administration, record documentation, and materials testing. Paul's experience as a contract administrator and quality assurance make him a valuable asset to any project.
[email protected] | 612.360.1310