The Zweig Group, the leading research, publishing and advisory services resource for the Architecture, Engineering and Construction (AEC) industry, has honored WSB with three awards in marketing.
Every year, the organization offers an awards program that specifically recognizes outstanding work within the AEC industry throughout North America.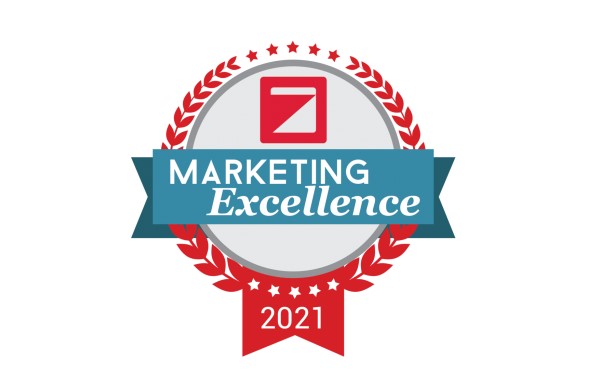 Marketing Excellence Awards
Zweig recently announced the winners of the 2021 Marketing Excellence Awards for outstanding, results-driven marketing. Zweig awards the top five firms in each possible category. WSB ranked first place in one category and third in two others.
Award entries were judged by a team of marketing professionals and evaluated based upon overall creativity, messaging, results achieved by the campaign, and level of design.
Advertising | Road Work Ahead Mailer | First Place
Our Marketing team worked closely with our Municipal team to create a direct mail and email campaign that promoted our construction related services. The piece was shaped like a road construction sign that read "Road Work Ahead" on the cover. Inside we talked about our approach and philosophy around construction and highlighted our relevant service areas to support all aspects of construction projects.
Internal Newsletter | Year In Review | Third Place
The Year In Review received a third-place award in the Internal Newsletter category. Since 2009, WSB has published our annual Year In Review. For over a decade, this publication has recapped the previous year and has been distributed at our firm's annual celebration. The goal is simple – to tell the story of WSB to our staff and external partners.. The Year In Review is one of the ways we celebrate our accomplishments in the past year and tell our internal WSB story.
We always include an overview of firm achievements and milestones at the beginning of the publication – because we are one WSB. Even though our work, projects and staff extend across the nation, together we're working towards a common goal. The rest of the publication was broken up into our divisions and culture highlights. Our projects and work are always very important to our story, but it's the people behind the projects that really help shape the way we work.
Special Event | 25th Anniversary Special Edition Newsletter | Third Place
In 2020, WSB celebrated our 25th Anniversary. We had many plans prior to the pandemic to keep the celebration going all year long. Client events, staff events, videos, social campaigns – many of these celebrations involved being together in person. When the pandemic hit, we had to switch gears.
Twice a year, WSB publishes an external newsletter. For over 10 years, WSB has mailed a newsletter highlighting projects, innovations, techniques and news. As we began preparing our content for Volume 2 of 2021, our CEO Bret Weiss, mentioned that he thought it would be a great opportunity to highlight our 25th Anniversary. Twenty-five years have built many memories – more than we could share on the pages of the newsletter, many that are best told by the people who lived them and a couple that should never be in print. We realized that there are countless people, places and projects that have shaped our story, but there were also many things that contributed to our success over the years. We decided to move forward and tell the story of 25 years through 25 things. The 25 'things' varied – some were personal to individuals, some were from long ago, and some were new things that emerged since our rebrand. Through 25 'things' we shared the story of WSB.
The Complete list of Marketing Excellence Award Winners can be accessed here: https://www.zweiggroup.com/2021-marketing-excellence-award-winners/