Saenz will lead the firm's right-of-way efforts in Texas
Austin, Texas – Engineering and consulting firm WSB announced today that Christie Saenz is joining the organization as a senior right-of-way specialist. Saenz joins the firm's Austin office where she will lead WSB's right-of-way efforts throughout Texas.
"I am thrilled to welcome Christie to WSB," said Jay Kennedy, WSB's vice president of Texas operations. "In the last year, we've been working to expand our expertise in the Texas market and the addition of Christie will continue to drive momentum."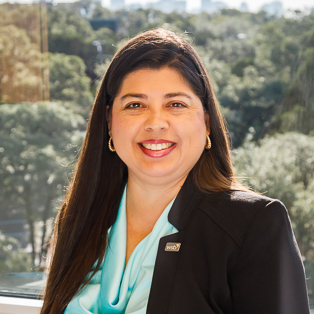 Saenz joins WSB with over 25 years of experience in the right-of-way industry. Throughout her career, she's managed the acquisition of over 1,000 parcels for the Texas Department of Transportation and central counties and cities. Most notably, Saenz worked on the SH 99 Grand Parkway, Segments F-2, G-1 & G-2 for Texas Department of Transportation in Harris and Montgomery Counties, SH 36 for Texas Department of Transportation in Brazoria and Fort Bend Counties, the Bell Boulevard Realignment for the city of Cedar Park and Dacy Lane Phase II for Hays County in Kyle, Texas.
"I am really looking forward to joining WSB's fast-growing Texas team and expanding the firm's right-of-way services," said Saenz. "Investment in infrastructure and development is strong throughout the state and I see many opportunities to support our client's right-of-way needs."
As part of WSB's right-of-way team, Saenz will support clients with their right-of-way projects by providing project management, acquisition and relocation services. As a consulting engineering firm, WSB provides transportation planning and design, water/wastewater utility work and community planning services throughout the state of Texas.