The American Public Works Association – Minnesota Chapter (APWA-MN) recently announced that Monica Heil, WSB's Vice President of Municipal Services, will serve as chapter President beginning in January 2023.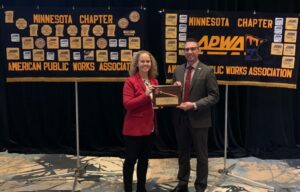 For the past 12+ years, Monica has been actively involved with the APWA-MN Chapter serving as the Director-Consultant (2018-2019), Chair of the Education & Training Committee (2014-2020), Chair of the Chapter's Underground Utilities Construction Inspector School (UUCIS) Subcommittee (2012-2019), and a member of the 2016 PWX Technical Tour Planning Committee (2015-2016). Monica served as the Secretary/Treasurer of APWA-MN in 2021 and served as the Vice President and Co-Chair of the APWA-MN Conference Planning Committee in 2022.
"I am so grateful for the opportunity to serve as the 2023 President of APWA-MN. It's an honor to be part of a profession that works tirelessly to maintain the quality of life for residents across the State of Minnesota," said Heil. "I look forward to continued opportunities to support those who operate, improve and maintain public works and infrastructure."
Heil brings nearly 20 years of experience serving Minnesota communities. In her role at WSB, she leads the delivery of Municipal Services in the Upper Midwest market, developing technical expertise, improving project management processes and creating efficiency among teams.
Formed in 1946, APWA-MN currently includes over 1,000 public works professionals throughout the state of Minnesota. Members represent both the public and private industry and all work together to advance the public works profession. The chapter's mission is to advance the theory and practice of the design, construction, maintenance, administration, and operation of public works facilities and services. Learn more here: American Public Works Association – MN Chapter :: Who We Are (apwa-mn.org)