July 18, 2023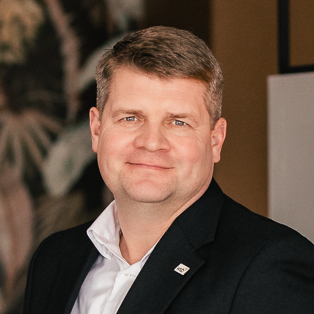 Travis Wieber is the Vice President of Transportation at WSB. Travis joined our firm in 2022 and leads our transportation efforts throughout the Midwest. Wieber will also play a large role in our expansion of staff and services in the Fargo, North Dakota geographic market this year.
Q: You joined our firm just over a year ago. What about WSB attracted you?
There were several factors that influenced my decision to join WSB. My background has always been in consultant engineering, and I knew it would be a great opportunity to be a part of a successful and growing organization. I knew that WSB had tremendous talent and it was a team I wanted to be part of. Meeting Jon Chiglo, our COO, and Bret Weiss, our CEO, proved that this was the right place for me. I was impressed with their leadership and vision for the company and how it influences us now and in the future.
Q: What factors have contributed to the growth of WSB and our expansion into North Dakota?
Currently, there is a lot of work to be completed in the engineering industry and companies that are performing have a big opportunity in front of them. I strongly believe that WSB is that company. Our clients understand that we will deliver successfully. It's why we often have repeat work. Our successful delivery has significantly contributed to our growth and allows us to attract new talent and expand in new locations, like North Dakota.
Q: How has transportation been advancing in North Dakota?
The state has seen steady growth over the years. WSB is changing the way our industry delivers projects through advanced project delivery and have an opportunity to bring this approach to the North Dakota market, much like we've done in Minnesota and Texas.
Q: Why is the North Dakota market important to the growth of WSB?
The North Dakota market has a stable economy and is investing heavily in infrastructure. North Dakota is also a very energy dependent state with robust funding. While it may not be the size of our other markets, it provides us with an opportunity to build a strong talent pipeline with our college relationships (Go Bison!) and grow our client footprint. The market has a vast number of engineers, surveyors, and planners available who can help us deliver in any of our markets or regions. The expansion into this market will influence our workload and diversifies our business offerings.
Q: What makes WSB best suited to support infrastructure needs across the Midwest?
As a full-service design firm, we have access to every area of expertise within our company 'walls.' Our roots are in the Midwest which has allowed us to learn from our client base and take this knowledge with us to new markets. We take a bold approach to the way we work, and I find that exciting. We don't take the same approach as everyone else and that's a big differentiator for us.
Q: What does the future of WSB look like?
We will experience growth and will expand our regional footprint. The model we built in Minnesota is applicable to other areas of the country. We'll use this model to bring all our services into the Fargo and Bismarck areas. Taking steps regionally and diversifying our geographies creates opportunities. We believe in building what's next in infrastructure and our passion, drive and innovation will guide that.
Q: How will you support the growth of WSB throughout the Midwest?
One of my biggest focuses as we experience growth throughout the Midwest is to ensure that we're collaborating with each other across geographies. Our talent extends throughout the U.S. That's the great thing about the way we work. Project teams don't always need to be working in the same office. We'll focus on putting the best teams together to support our clients' needs across our organization.
Q: What are the strategic goals for the North Dakota market?
We will grow our existing relationships with the state and city market clients. We are well-positioned to support the infrastructure needs of our partners across the state. Our expanded Fargo office really emphasizes our commitment to the community. We'll be building our talent through strategic hires that will be able to support the needs of our clients throughout the Midwest.
Q: What do you wish our clients knew about WSB?
How we are leveraging technology to improve project delivery, add value to projects, and reduce risk is a focus across our firm. We have a great story to tell and I'm looking forward to sharing that with new and existing clients alike.