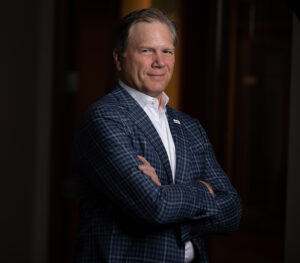 Five years ago, Bret Weiss, WSB's President & CEO, walked into an all-staff meeting and said, "Beginning now, we are a technology firm." Today, this statement rings true. WSB is still a design and consulting firm dedicated to building the places, spaces and systems that support our lives, but in everything we do, we look through a technology lens.
In this Q&A, Weiss discusses WSB's commitment to innovation and why he embraced disruption early on.
Why technology?
In many industries, technology has drastically impacted processes, deliverables and has had significant impacts on cost, quality and speed to market. The AEC space is no different. There are both tangible and intangible benefits to use new tools and technology that produce real results and help us meet our client demands. Many in our industry are comfortable with how we have always done it and I saw software solutions as an opportunity to differentiate our firm. We have always tried to think like successful businesses outside our industry and want to be on the leading edge. Our commitment to advanced technology and project delivery will continue to further set us apart. There are countless internal staff and external client benefits that come from driving technological advancement for the industry. We felt like a strong base in technology was the perfect place to position WSB.
What type of reaction did you get from staff after you stated that WSB was a technology firm?
There were varied responses – some confusion, a lot of excitement and many questions. Obviously, we're still a design and consulting firm, but it's the way we deliver our projects that's different and creating real impact. We wanted to drive that home for staff. The use, development and adoption of technology is a priority for our firm. Change can be hard for any industry. A bold introduction was necessary. Like with any change, there was some hesitancy in adjusting what's already working, but the benefits speak for themselves, and it's been something staff and clients have grown increasingly excited about.
You've been vocal about the importance of embracing change. How do you know when a change is the right one?
There is always a certain amount of risk associated with change and we are constantly evaluating any potential risk to our company, staff, and clients. With any change, you will encounter resistance and may experience a slow transition, but that's where we weigh the benefits of change. Our culture is built on curiosity and experimentation with new ideas but is balanced with a swift evaluation of what has potential and what won't meet our expectations.
My goal is to lead WSB to deliver better projects for our clients and the communities we serve. Any change that supports these efforts is something we're willing to explore. We have a strong leadership team that is committed to new solutions, and we are committed to developing partnerships to help us on this journey.
We want to help build better infrastructure through streamlined approaches that are mutually beneficial for all parties. Whether it's safer infrastructure, working conditions or cost savings and better schedules, the benefits must outweigh the risk. We constantly review how technology could advance WSB and our deliverables, which is well worth the risk and has allowed us to grow in new areas of our industry.
When did you know WSB's commitment to technology was going to be successful?
Our staff have always embraced curiosity and our business has been built on thinking differently. There were a lot of milestones that helped build our momentum. We hired new staff to grow our expertise, we collaborated with strategic partners, and we worked closely with clients who shared a vision for advancing our industry and leading digital delivery efforts.
There are so many examples of where we have succeeded with developing, using and enhancing technology. The success we have had has spread throughout WSB and all our staff understand the importance of using technology to advance our clients goals. I'm excited about the progress we've made, but I'm looking forward to what's next in our digital evolution.