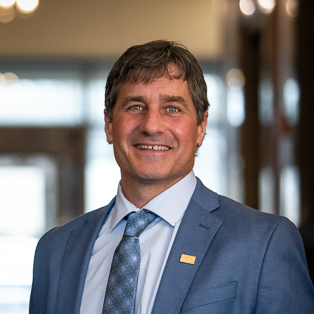 Kyle Klasen is the Director of Survey at WSB. In his role, Kyle oversees our survey staff nationwide, advances a visionary approach to industry practices and improves the efficiency and value of projects. Kyle's innovative spirit and client-focused approach is admired by partners and staff. In this Q&A, Kyle reflects on his time at WSB and what the future of the surveying industry looks like.
WHAT IS YOUR FAVORITE PART ABOUT LEADING WSB'S SURVEY TEAM?
My favorite part of leading the survey team is collaborating with everyone. Our team has a strong work ethic and are extremely dedicated to both WSB and the infrastructure industry. I enjoy being surrounded by motivated individuals who strive for new ideas and have ambition to do more.
HOW DO YOU KEEP YOUR TEAM MOTIVATED?
I am excited and passionate about the work we do, and I want that excitement to come across to my team. A lot of our staff are motivated by delivering projects. They start a project when there is nothing there, and by the end of the year, they are able to see all that was accomplished by building and surveying. There is a certain satisfaction in seeing a highway, a road, or whatever it might be, from beginning to end.
WHAT DO YOU WISH PEOPLE KNEW ABOUT SURVEYING AT WSB?
I'd like people to know about the diversity and scope of the work that our team performs. We may be known for our construction abilities, but we do so much more. We have a large presence in the renewable realm on wind and solar projects, we work in the oil and gas industries, and we also do a lot of large-scale boundary work. We are also larger than our Minnesota staff. We have built a solid survey team in Colorado and are working on adding a survey team in Texas in the near future.
WHAT MAKES OUR SURVEY SERVICES UNIQUE?
Our surveying team stand out among our competitors because we are incredibly innovative and forward thinking. We focus on utilizing technology and are extremely advanced in our abilities to manage and operate cutting-edge software. We are leading the industry in our use of 3D models and are leading many firsts in our industry when it comes to the tools we use. Our collaboration and partnerships allow us to be more productive and efficient in the field, ultimately saving contractors and owners money.
WHAT DO YOU LIKE BEST ABOUT WSB?
I like that everybody is always looking for new ways to solve our clients and contractors' challenges. Creative and out-of-the-box thinking takes collaboration, and all our departments and functional groups work well together. We communicate and are willing to offer experience and solutions, even if it is outside our core functional group. At the end of the day, we have a team where every person is motivated, brings a positive attitude and collectively works together to deliver quality projects for our clients.
SURVEY IS A TOUGH JOB TO FILL. HOW DO YOU PLAN TO ATTRACT AND RETAIN TALENT?
A recent strategic hire told me the main reason they joined WSB was because of the longevity of our staff. You can't make that up. That sells what it means to be part of the WSB team. They've seen companies with turnover after turnover, and it's clear that WSB is different. We really care for our staff, while providing numerous opportunities for leadership and career advancement for those wanting to stay and help grow the company.
WHAT DOES THE FUTURE OF THE SURVEY INDUSTRY LOOK LIKE?
We are going to see more and more of our processes become automated. We need to think differently and creatively on how we collaborate with contractors. The future of WSB surveying is about nurturing and preserving the client relationships that make our core market in Minnesota, while also fostering growth for our teams in Colorado, Texas, and around the country.
WHAT HAS MADE THE MOST IMPACT ON YOU THROUGHOUT YOUR CAREER?
Early on in my WSB days, a client at Mathiowetz Construction, gave me a shot on a project. Our relationship has grown into an incredible partnership, and it opened my mind and eyes to what contractors are doing, what they need, and how they deliver a solid project. Trust and collaboration are key to achieving success. They changed my mind on how I think about construction. I attribute a lot of my career growth to that partnership and being given a chance to make an impact.
DO YOU HAVE ANY FAVORITE MEMORIES YOU WOULD LIKE TO SHARE?
My most memorable moments were early on, as I was growing as a young land surveyor in a private company. I was fortunate to be working at WSB where they foster an environment of learning, problem solving and mentorship. I recall once finding myself in a particularly challenging situation where I couldn't find a solution. Ron Bray, one of WSB's founders, took the time to walk me through it and solve the problem. In retrospect, that situation not only taught me how to solve that problem, but also instilled me in me a desire to apply that same philosophy in managing my team. WSB encourages everyone to push boundaries, solve problems and work as a team to reach the end goal.