Tides Marine, Inc has been a manufacturer of maritime products for 28 years. Jeff Strong, President of Tides Marine, Inc, contacted us to develop and create product visualizations for three of their products; SureSeal – Shaft Seals, Rudder Bearings, and Sail Track System. We created 30 minutes of product visualizations that they use at tradeshows and have deployed to their sales force in the US and Europe.
All geometry needed to be created from engineered drawings. The company had never completed a product visualization before this, nor had they created any sales or step-by-step installation videos. Consequently, every step needed to be explained and reviewed to achieve their end goal – the most technologically advanced visualization the marine market had seen. Creation of the geometry and visualizations were completed in Autodesk's Maya, then rendered using Chaos Groups V-Ray to create over 63,000 frames of final animation. Over a million frames were rendered when including all the iterations.
We needed to create views that better explained how their technology worked, and why purchasing their products would be cost-efficient. We not only needed to understand the technology, but also explain the functionality of each piece so the public understood it the first time they watched the product visualizations. The owner, Jeff Strong, challenged us to create camera views that he hadn't been able to over the years of creating marketing pamphlets using conventional photography and video. We accepted the challenge and created very interesting views of his products.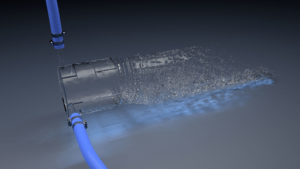 Their SureSeal shaft seal uses water as a lubricant and had never been viewable. With this key component, we created a water flow simulation of the water channel and a very detailed view of what this water layer would look like with all the equipment being turned off. The result – an incredibly innovative way to show the water flow with never before seen detail. The simulation took about 200 hours to complete and involved more than 5 million points to describe the water flow on a frame by frame basis, or a 30th of a second or 37 GB of data in total.
Our visualizations are now being utilized Tides Marine in the US, Florida, California, Spain, England, Poland, Panama, Lebanon, and Australia. There are 10 more products that Tides Marine, Inc is planning to visualize over the course of a few years.