The Mississippi Gateway Regional Park redevelopment project is a joint effort of Three Rivers Park District and the City of Brooklyn Park. The park consists of properties owned by each of the partners along the shoreline of the Mississippi River, with the Coon Rapids Dam towards the northern portion of the site. The location offers unique river interaction opportunities and vital connection within the regional trail network throughout Hennepin and Anoka Counties. WSB was selected to lead public engagement, prepare the visionary master plan, and lead the project through final design.
Some key goals during the public engagement and planning of the project involved providing a variety of nature based programming opportunities, fostering redevelopment to meet or exceed sustainability standards, and embracing the local and regional community with an atmosphere of 'everyone is welcome here'. 
The final plan included recreational amenities in the parks, such as a multi-use visitor's center with classrooms, a network of paved and natural trails, canoe and kayak launch, nature observation points, fishing opportunities, off-leash dog area, archery range, and picnic areas.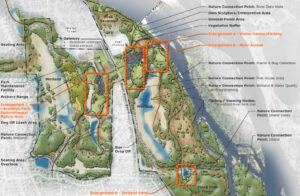 Some of the more unique features of the redevelopment will include a treetop trail, which begins at the visitor's center and contains wildlife viewing platforms and nature play opportunities and the 'Mini Mississippi' that provides a miniature river for children's interaction. The plan also protects the park's natural character through careful placement of the built features in alignment with the DNR's overlay district and bluff setbacks.  
The project will be implemented in phases to maintain access to portions of the park through construction. The Mississippi Gateway Regional Park redevelopment is anticipated to be complete and opened to the public in 2025.