Afton is a city of nearly 3,000 nestled along the banks of the St. Croix River in southeastern Minnesota.  The historic town is well-known for its picturesque views and tourist attractions that include Afton Alps, the largest ski and snowboard area in the Twin Cities metro, and Afton State Park, a popular park located along the river.
In 2008, the city was notified by the United States Army Corp. of Engineers (USACE) that the levee protecting Afton's Old Village did not meet standards associated with the USACE Levee Safety Program. The loss of eligibility would leave the city 100 percent responsible for all future flood damage. This information spurred city officials into action as they began working to develop a plan to protect their valued infrastructure. The city hired WSB to help develop one of the largest joint city-county projects in Washington County history. The $20 million effort included the installation of a new sanitary sewer collection and treatment system, reconstruction of all county and local roads within the city-limits; development of new trails; levee reconstruction; stormwater enhancements and a 100-year flood protection plan to protect the Old Village of Afton over the next century.
It takes a village
The City of Afton and Washington County partnered to reconstruct the 160-year-old Old Village of Afton. The project was funded with financial support from the Minnesota Board of Water and Soil Resources (MNBWSR), Minnesota Department of Natural Resources (MNDNR), Minnesota Pollution Control Agency (MNPCA), Minnesota Public Facilities Authority (MN PFA), and the Valley Branch Watershed District (VBWD).  Once funding was in place, our team worked closely with project partners to guide the reconstruction project over eight years.
Due to several moving parts involved in the reconstruction, an Old Village Public Task Force was developed to assist in leading the development and project planning process for the city council to consider.
Getting systems to work together
Afton had not undertaken major infrastructure investment for over a decade and protecting the economic vitality of the city during construction and gaining public support was critical.  Several unique challenges presented themselves during construction. Environmental issues, accelerated timelines, economic and social issues, and historical preservation complications arose throughout the project. Communications required extensive coordination and collaboration with the city of Afton, Washington County and key stakeholders.
Although some of the most important infrastructure improvements are not visible, the project was incredibly valuable to the economic health of the city and its future.  The well-designed improvements officially made their debut last summer during Afton's popular 4th of July Parade.  Levee improvements were completed and proved their importance this spring when the St. Croix River reached historic water levels and Afton remained dry.
Afton Redevelopment Snapshot 
The reconstruction and preservation of Afton's Old Village was a massive undertaking with many moving parts.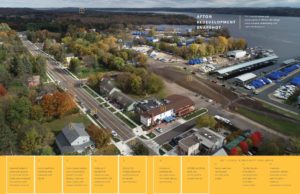 County and local roadways were enhanced and rebuilt.
Safety and accessibility measures were improved for both pedestrians and bicyclists.
A drainage system was constructed to prevent localized flooding and improve water quality.
Afton's Old Village's historical significance was protected and enhanced.
Impacts on business and properties were minimized during construction.
A FEMA-certified levee was constructed to protect the city.
A sanitary collection and lift station replaced a septic drain field.
Impaired bodies of water Lake St. Croix and Kelle's Creek were protected from sanitary and stormwater impacts.
The Rattlesnake Effigy Mound remained intact with help from local tribal communities.
Several partners contributed to funding the project.