By Karina Martin
March 4, 2016
What is a Smart City?
Monumental advances in technology and data management over the past two decades coupled with a global increase in the urban area population have paved the way for integrating more technological networks into the built environment and public engagement processes. There is a demand for increased public accountability, constant access to real-time data, and a growing awareness of the need to develop cleaner and more cost-effective infrastructure systems. A Smart City systematically incorporates data and technology into existing frameworks to efficiently operate local systems, reduce costs, enhance quality of life, and invite more sharing of ideas.
Why a Smart City initiative?
Planners will play an important role in the future of Smart City development and are already facing important questions related to technology deployment, data collection, and overcoming technology access and equity concerns. The American Planning Association (APA) developed its Smart Cities and Sustainability Initiative to affirm the relevance of Smart City technology to the field of planning and to identify what critical technologies planners will need to pay attention to in the decades to come. The main goal was to gauge the knowledge and interest level of planning professionals in different aspects of Smart Cities and to make recommendations about how to support the interests of planning professionals going forward.
Overview of Smart Cities components
The concept of Smart Cities can seem intangible. The Smart Cities and Sustainability Initiative report gives a broad overview of the key components of Smart Cities and provides a framework for understanding and tying the concept to the planning profession.
Broadband network expansion – High-speed broadband networks will become a staple of Smart City technology. The definition of "high-speed" is continuously changing, and the demand for streaming services and cloud computing are pushing the limits of what is considered fast and reliable access. The FCC National Broadband Plan has a goal of delivering 100 mbps broadband to anchor public institutions like libraries, schools, and government centers by 2020.
Smart Cities will need to balance investments in both broadband and wireless network access to meet the needs of a diverse customer base.
Technology and data applications – Smart Cities require incorporating more data into existing systems. Smart Cities put data to greater use, which requires enhanced points of data collection integrated into infrastructure. The Smart City is adept at "collecting, communicating and crunching" data (Smart Cities and Sustainability Initiative, page 12), as well as using data to optimize systems and anticipating problems before they occur.
Sustainability, resiliency and energy – Much optimism surrounds the idea of using Smart City technologies to improve the energy efficiency of local and regional systems. Deploying "smart grids" will allow for automated and adaptable energy delivery systems. Green building technologies will help improve the energy efficiency of buildings, the single-largest carbon emissions source in the world. Planners can influence code and ordinance development to help usher in these changes in the built environment.
Equity and the digital divide – While Smart City technology has the potential to be transformative, the increasing role of technological services raises the important question of access and equity. The potential exists for certain populations to be systematically excluded or underserved by Smart City technology, including seniors, low-income families, minority households, and individuals without a college education (Smart Cities and Sustainability Initiative, page 14).
Governance and the planner's role – Smart Cities implies an increasing reliance upon technological applications for public feedback and engagement. The hope is that increasing the access points for public engagement through technology will reach more people than traditional methods. Planners will need to use this technology in a transparent fashion and ensure that public trust is maintained.
Findings of the Smart City initiative: What is of most interest to planners?
The APA Smart Cities Initiative Task Force incorporated a listening phase, which directed outreach to APA members through a survey including 14 different Smart City topics, asking participants to rank the importance of these topics, their interest and their desire to learn more about each topic. The listening phase also included an ideation tool online forum, and an innovation portal hosted by an APA-based LinkedIn portal.
Green building and site design, socio-economic disparity, and renewable energy and efficiency were ranked as the top three areas of importance by survey respondents. Public safety and freight supply were ranked as the least important. Interestingly, public safety also ranked as the subject area that most planners want to learn more about. The full list of topics and the results matrix is included here: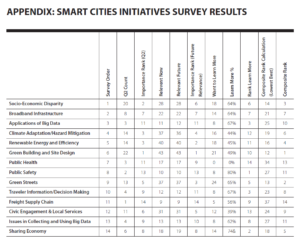 Moving forward
The report concludes by observing that planners have an interest in Smart Cities, and recommends that APA develop strategic actions, including:
Centralize innovative information surrounding Smart Cities for use by planning professionals
Develop comprehensive plan Smart City guidelines
Partner with research entities to increase the body of knowledge on Smart City technologies
Utilize APA's National Planning Conference as an opportunity to teach about technology
Work with AICP to train planners on integrating technology systems
Create a divisions council initiative for Smart Cities
Offer ethics training related to big data
Advocate for policies that bridge the digital divide