By Shelly Hanson, Sr. Project Manager and Charlie Wild, IT Application Administrator, WSB
At one point, the idea of wirelessly connected, data-driven communities seemed futuristic and aspirational, like an episode of "The Jetsons." But with advances in technology and consumer demand, this trend toward technology-enabled, efficient cities is happening all around us.
While major metropolitan areas like Chicago, San Francisco, and New York City are well-known for their "smart city" initiatives, communities of any size can take steps to use technology to improve city services, operations, policymaking, and public engagement.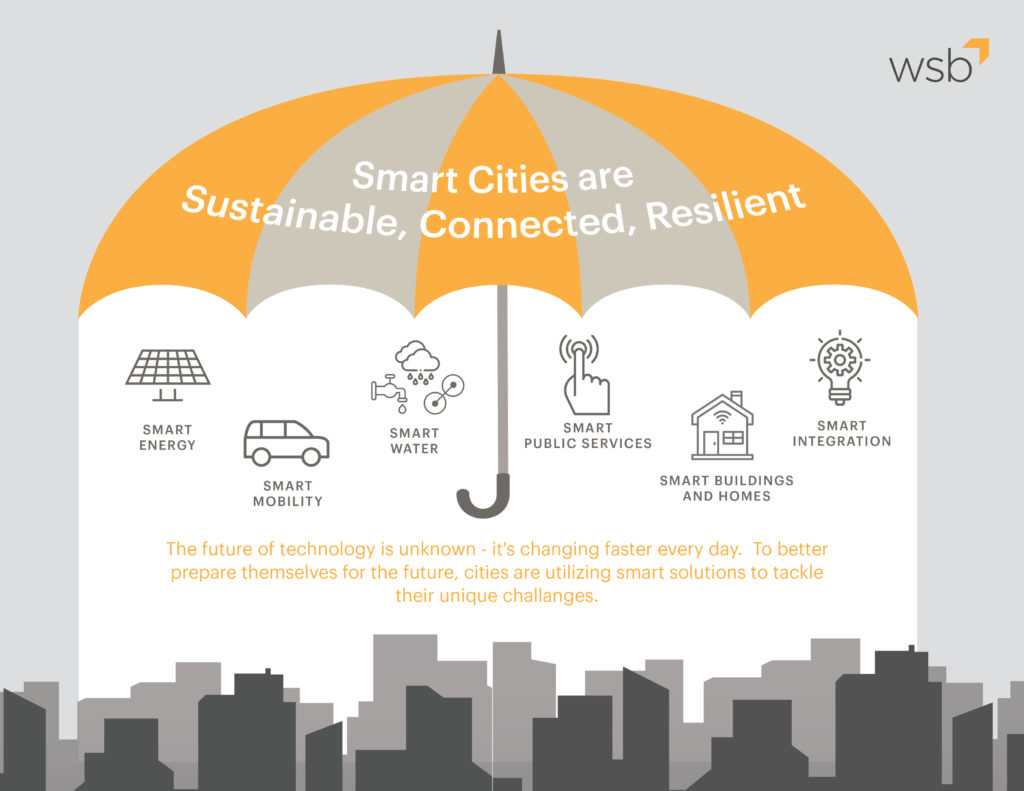 Recently, many Minnesota cities have been working to expand their broadband networks, develop stormwater systems, manage energy performance, and initiate other smart city projects.
Definition of a smart city
While there are many ways to define a smart city, we group smart city initiatives into these six categories:
Mobility: Scooters, public transit, vehicles, and anything that moves people, goods, or services
Water: Wastewater and stormwater facilities
Public services: Traffic management, permitting, GIS applications
Homes and building: "Internet of things" technology in homes, offices, and public buildings (heating and cooling, lights, security)
Energy: Utilities, fleet management, efficiency
Integration: Powered by data and seamlessly connected broadband networks, applications
In many cases, cities already have elements of this public infrastructure running through their communities and are on the path toward becoming a smarter city.
Achieving goals
It's important to note that cities aren't using these tools for accolades. Technology and data can help provide smart solutions that improve the quality of life in a city and return tax dollars into the system. Ultimately, the goal of implementing these strategies is to deliver better outcomes for the community while using fewer resources. Smart city approaches can also help communities reach broader goals like advancing equity, improving policymaking, or decreasing their environmental footprint. A tangible example of this is crime rates. In Philadelphia, the Police Department launched a "Smart Policing Initiative" using data, GIS mapping, and predictive analysis to see where crime is occurring most in the city.
The analysis allows the city to devote more resources to crime hot spots and improve response times. The city's high crime areas have seen reductions in the crime rate since implementing these practices.
Disadvantages to consider
While it's easy to see how data improved public life in the Philadelphia Police Department example, there are also drawbacks to consider. Smart cities are powered by data, and residents may be wary about sharing personal information with their government. Communities that use this technology must take steps to ensure privacy and prevent companies from profiting off their citizens' data.
Another risk is cyberattacks. Now that many cities have made large-scale investments in digital technology infrastructure, predators have found opportunities to wreak havoc on city systems.
In Baltimore, attackers recently targeted the city's computer-aided dispatch system, and first responders were unable to access it for 17 hours. A 2018 ransomware attack of Atlanta's software applications disrupted five of 13 city departments and cost more than $12 million.
Smart cities must invest in the security of these critical infrastructure systems to ensure reliable and secure systems that the public can trust.
Money-saving initiatives
Although smart city initiatives may carry an upfront cost in some cases, they can save the city money in the long run. For example, San Diego leaders expanded upon money-saving efforts that are helping to make their city smarter.
What began as an initiative to use energy-efficient LED bulbs in streetlights has evolved into the deployment of the world's largest smart city sensor platform. Controlled by remotes, this digital infrastructure allows the city to dim the streetlights during certain hours of the day, resulting in further energy and cost savings.
Becoming a smart city
Throughout the United States as smart city approaches become more common, cities are becoming more equipped to manage risks and use advances in technology to build better communities.
If your community is ready to get smart, public engagement can help you identify priority areas and set goals. Start a conversation in your city about the challenges you're facing and how information and communications technology can help solve those challenges.
This article was originally published in the League of Minnesota Cities Winter 2020 magazine.