Many communities experience issues with their sewer and water systems due to aging infrastructure. While these challenges can be remedied using traditional excavation methods, the surface disruption to the environment, residents, and business owners is significant. There are alternatives available for rehabilitating water infrastructure that save the community time and money, while preventing disturbances.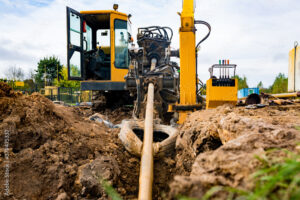 Rather than excavate and trench the problem area, trenchless technologies are a non-traditional method of construction that allows communities to repair the sewer or water infrastructure, seamlessly. Our range of services include:
Cured-in-place pipe (CIPP) rehabilitation
Pipe slip-lining
Pipe bursting
Swagelining
Horizontal directional drilling
Pipe jacking
Micro-tunneling
Manhole rehabilitation
Why Go Trenchless?
Cost savings through extending the useful life of the current infrastructure system.
Attractive low-construction option in urbanized areas with heavy vehicular traffic.
Lack of disturbance preserves surrounding quality of life conditions for residents, storefronts and pedestrian traffic.
Less disturbance to underground utilities and surrounding structures, preventing further potential problems.