Amy Fredregill, WSB's senior director of sustainability shares WSB's approach to sustainability.
At WSB, as well as for many other thought leaders, sustainability simultaneously advances economic, social, and environmental outcomes, thereby meeting the needs of current and future generations. Each aspect – economic, social and environmental – is like a leg on a three-legged stool. If one leg is shorter or weaker than another, the stool is not stable. No part of the stool exists in a silo, but instead is connected as a system to serve any number of purposes.
Modern sustainability is key to finding opportunities in 21st-century challenges like waste generation, soil, air, and water pollution, and a limited supply of resources. Stakeholders are working on each challenge by designing and piloting new approaches. Community needs constantly change and often involve complex infrastructure challenges that span many systems. For example, every community requires transportation systems, sewage, water, and electric systems for quality of life.
Communities can start or scale up today, toppling the barriers to sustainability and reaping the benefits, which include cost and risk reduction, access to new markets, providing cost-effective products and services to meet consumer demand, attracting businesses and top talent to your region or company, keeping communities healthy and creating economic development. Through innovation and collaboration, maintaining each leg of sustainability- economic, social and environmental- communities are prepared to meet the needs of people now, and people tomorrow.
Sustainable solutions are realistic, cost-effective and already being used by WSB clients across the country. In the city of Hugo, Minn., a northeast Twin Cities suburb, a citywide stormwater reuse program is saving tens of millions of gallons of water a year by irrigating land with stormwater instead of water pumped from a local aquifer. The municipality and its residents save money on water and power bills, effectively turning what was once a waste stream into a revenue stream. On the heels of a one-in-100-year weather event that knocked out the power grid across all of Texas, Fort Bend County is building solar power infrastructure on over 3,200 acres of property, minimizing energy consumption and maximizing energy efficiency. In these and many other communities, we are delivering sustainable solutions, such as water reuse, stormwater and flood management, municipal resiliency and comprehensive planning, native landscaping, and renewable energy.
Sustainability enhances regional competitiveness and furthers economic development. Today, businesses and people are seeking out communities with a smaller, lighter footprint, eager to pump money into sustainable economies. Investing in solar energy can lower energy costs and improve environmental outcomes. Prairie restoration in a community park can increase ecological diversity and create a welcoming recreational area. Economic, social and environmental benefits are co-benefits, and businesses and people see them. By improving the outcomes of one, you improve the outcome of another.
Sustainable approaches build strength into the infrastructure that supports our lives as community needs change. Through innovation and collaboration, maintaining each leg of sustainability- the economy, society and the environment – communities are prepared to meet the needs of people now and people tomorrow.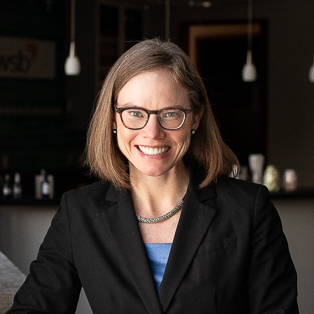 Amy has nearly 25 years of experience across many industries, particularly energy and agriculture, in the public, private and nonprofit sectors. This experience has provided Amy with a broad background that enables her to meet community and business needs based on the business case for sustainability. By working across intersecting systems to simultaneously advance environmental, economic and social goals, she is able to uncover creative solutions.
[email protected] | 612.965.1489