By Jake Newhall, Project Manager, WSB
Extreme rainfall events are occurring with increased frequency. Due to climate and environmental changes, many cities and communities are facing an increased flood risk and must act to protect their communities, residents, and infrastructure. A 2019 report by the National Institute of Building Sciences noted that Natural hazard mitigation saves $6 for every $1 spent on infrastructure resilience.

How can community planners, engineers, and elected officials prepare for and protect their communities from flooding? Here are some guidelines to help reduce flood risk in your community when a storm hits.
Preparing for and Understanding the Weaknesses in Your Systems
Flood vulnerability and resiliency studies are a process for evaluating a community's ability to withstand rainfall and identify flood risk. These studies look at the existing systems and determine the risks, and where improvements can be made to protect priority infrastructure. This is vital for communities to reduce risks and flood damage to property and public infrastructure – especially in densely populated areas and those near major roadways. 
As we face more extreme weather events, communities should consider increased rainfall depths and intensities so they can be proactive in system planning. The current storm probabilities available have not been updated since 2014, yet rainfall trends show increases over the last decade. Communities can greatly benefit if they anticipate the future probabilities of storms and construct systems that can handle more intense rainfalls. Using a range of design storms, you can determine flood depths, frequency, duration and assign risk to help prioritize funding.
Completing a risk analysis and inundation mapping utilizing existing modeling can be a low-cost way to start evaluating your system.
Identifying Projects to Reduce Flood Risk
Locating the areas of risk in your community is critical to flood prevention. That could include finding where your system needs more capacity and storage to reduce flooding, determine what properties are prone to flooding, and creating solutions such as relocation, emergency response, or additional flood protection investments.
Where collected water goes is important when examining and determining updates for your systems. The primary options are to either pass the water downstream into creeks and rivers, or store it in drainage ponds, underground systems, or other storage areas. Another option is to reduce the impervious footprint to reduce the amount of runoff that is generated. Emerging technology allows for predictive rainfall systems that can generate additional storage ahead of a large rainfall event by releasing water early and prior to a peak event through a critical area.
The risk with moving the storm water downstream is the possibility of flooding and eroding the creeks and rivers. If conveyance capacity is increased to the downstream system, it is necessary to make sure that proper measures are taken to avoid flooding and erosion that can harm waters and ecosystems. Water storage options like drainage ponds or underground storage, are options for many communities to utilize. Balancing needs, functionality, and the cost of storage and land is important for communities to explore. Water quality and pollutant removals can be a secondary benefit of many stormwater storage systems that can help communities achieve other goals at the same time.
Finally, for most communities, the needs often outweigh the budget available to accomplish them all. WSB helps clients navigate flood vulnerabilities, pursue grant funding, and help make informed decisions that best serve a community's individual needs.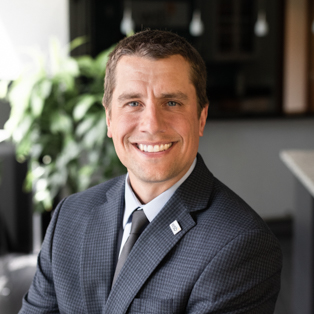 Jake has more than 15 years of engineering experience designing and managing many types of water resources projects, including modeling, planning, design, maintenance programs, and construction. Jake has worked with various municipalities, counties and state agencies to solve challenging water quality and water quantity problems.
[email protected] | 763.231.4861