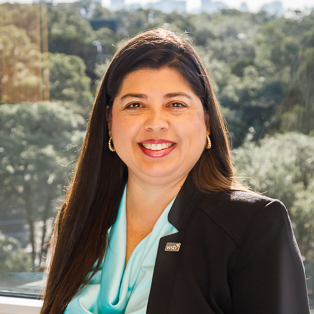 The Women's Transportation Seminar – San Antonio Region (WTS-SAR) recently announced that Christie Saenz, WSB Senior Right of Way Specialist, will serve as President for their Executive Board beginning in January of 2022. 
Saenz is an active member of WTS-SAR. Since joining in 2015, she has served in a number of leadership roles including Membership co-chair, Transportation YOU co-chair, Scholarship co-chair, co-Treasurer, and Treasurer. She also served as President-Elect for the 2021-chapter year.
"I am incredibly honored to be the next President of the WTS-SAR's Executive Board. It is a privilege to work with an organization that elevates and supports women in our industry, as well as works to support our vibrant San Antonio region," said Saenz. "I am thankful for this opportunity and for the wonderful people working in transportation, government, sustainability, and economic development that are part of our amazing organization."
Saenz brings over 25 years of real estate experience to the table, having a diverse background working with both government agencies and various engineering firms.
Women's Transportation Seminar was founded in 1977 by a group of pioneering women in transportation that realized women's careers would benefit from professional development, encouragement, and recognition to support their advancement in transportation professions. Through its professional activities, networking opportunities, and unparalleled access to industry and government leaders, WTS is turning the glass ceiling into a career portal. You can learn more about the organization at wtsinternational.org.