October 16, 2023
By Steve Nelson, Director of Water/Wastewater, WSB
The Minnesota Department of Health (MDH) and the Minnesota State Fair (MSF) are an unlikely duet, yet in 2023 they are singing the praises of Biological Filtration.
The Minnesota Department of Health – Acknowledged Biological Filtration's ability to naturally achieve Optimal Corrosion Control Treatment (OCCT) and compliance with the Revised Lead and Copper Rule (LCR), in lieu of adding very expensive manmade chemicals like orthophosphate.
The Minnesota State Fair – Le Sueur Minnesota, a community which WSB's director of Water and Wastewater helped convert to Biological Filtration in 2013, was awarded third place among communities with the best tasting water at the 2023 State Fair.

The Corrosion / Taste Connection:
Biological Filtration ensures that all nitrification (the conversion of ammonia to nitrate) occurs in the water treatment plant filters and not in the finished water distribution system; it also allows for the addition of chlorine after complete nitrification has occurred.
Avoiding nitrification in the distribution system is THE critical factor in the successful control of corrosion in Minnesota ground water systems.
Achieving complete nitrification prior to the addition of chlorine vastly improves the ability to achieve and maintain great natural tasting water in the distribution system and all the way to the consumer's tap.
Current Studies Reveal Other Practical Benefits:
WSB is piloting biological filtration for several metro area communities. Some of these communities are considering harnessing biological filtration to reduce capital and chemical costs for their future water plant expansions. Orthophosphate would not need to be added if Biological Filtration is approved as the OCCT. The currently projected capital and chemical savings for one of these communities are as follows: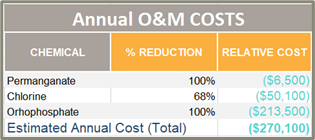 How WSB Has Helped and Can Help
For decades, Steve Nelson has been teaching about Corrosion Control, singing the praises of Biological Filtration and making the connection between the two. "It is now a joy to see our local communities harnessing nature to produce safe, sustainable, solutions that provide natural corrosion control, reduced capital costs, reduced chemical costs and improved taste at the consumer's tap." (Steve Nelson, WSB)

Interested in pursuing or exploring how biological filtration systems can improve your community's water? Reach out to our team of experts to get started.
Steve designs treatment plants and renovations (for both groundwater and surface water plants) including treatment process technologies such as reverse osmosis, ozone, activated alumina, biological filtration, lime softening, radium reduction, plate settlers, plate and frame presses and solids handling. He has worked with the AWWA Office of Government Affairs and the AWWA Research Foundation on water studies.
[email protected] | 612.258.8152