By Amy Fredregill, Sr Director of Sustainability, WSB
When people hear the term sustainability, they often think of the environment, but it is much more than that. Through using a sustainability lens, we have the unique opportunity to support long-term viability in the communities we serve. Creating sustainable communities will simultaneously advance economic, social & environmental outcomes to meet the needs of current and future generations.
Benefits of Sustainable Initiatives
Community and business needs constantly evolve and often involve complex infrastructure challenges. Recently, an increasing number of communities are developing or updating their sustainable goals. It's clear why these goals are necessary to combat climate change, reduce emissions, improve water quality and habitat; these goals and initiatives also have a wide range of benefits aside from the environment.
The benefits of exploring sustainability services include cost and risk reduction, providing new services, enhancing regional competitiveness, and furthering economic development. Even social issues can be addressed through sustainability. For example, setting procurement guidelines with a minimum standard for purchasing goods and services locally and from businesses owned by women and people of color, or improving accessibility through enhanced public transit. Most importantly, sustainability is scalable and can range from LED streetlights to EV charging stations to a full climate action plan.
There Is No Silver Bullet
At WSB, we understand the impact that sustainable solutions can have on communities, and we try to maximize that impact in every way possible. We see our work as more than creating sustainable communities, we aim to enrich the local fabric of a community.
WSB has years of experience in delivering sustainable solutions and long-term viability plans including water reuse, stormwater and flood management, municipal resiliency, comprehensive planning, native landscaping, and renewable energy. What works for one community may not work in another. We work with communities to develop and execute sustainable solutions when they make sense.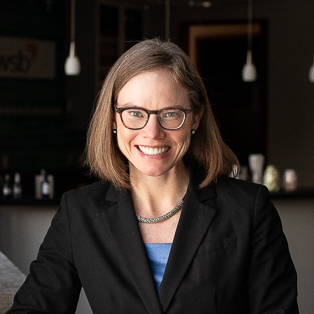 Amy has nearly 25 years of experience across many industries, particularly energy and agriculture, in the public, private and nonprofit sectors. This experience has provided Amy with a broad background that enables her to meet community and business needs based on the business case for sustainability. By working across interesting systems to simultaneously advance environmental, economic and social goals, she is able to uncover creative solutions. Through her relationship-based approach, Amy meets the unique needs of communities and businesses by working with all areas of the firm to provide comprehensive solutions.