On October 5, 2020, WSB will celebrate our 25th year in business. Since 1995, we've added new service areas, expanded our reach and served our communities. Throughout our tenure, our dedicated staff has been a constant.
In honor of our 25th year, we'll be highlighting 25 stories of the people behind the projects.
Story 10 of 25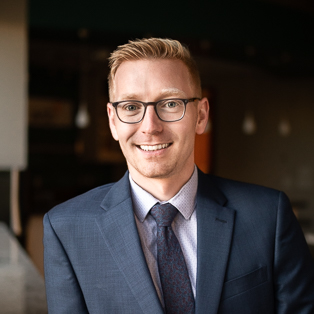 Adam Gadbois, Project Engineer | Joined WSB in 2013
What do you think is special about celebrating 25 years as a company?
25 years is an important milestone for a company. It's an entire quarter of a century, but at the same time, it's only a quarter of a century. It seems like a long time and it is in a sense, when you look at how WSB has grown from five employees to now over 500. But I like to compare it to a person turning 25. At 25, you've accomplished a lot from graduating high school, moving out of your childhood home, training for your career, starting a family and buying a home. But you're still only 25, and there's so much more to be done. When you look at how young WSB is, it's invigorating and motivating. WSB will continue to advance and grow in services, personnel and culture. Our staff have an opportunity to shape that growth as the years continue to pass.
In what ways have you been able to grow professionally at WSB?
I've received every opportunity to grow professionally at WSB. Since the day I was hired as a construction inspector to my role now as a project engineer in the Municipal group, I've played a variety of roles that have advanced my construction, engineering, and management skills. I've inspected for CenterPoint Energy for municipalities on roadways and new developments, I've assisted our Structures group, I've worked in MnDOT's estimation department, I've helped draft plans and specifications in the Municipal group, I've joined professional organizations and attended technical trainings, I've led neighborhood meetings and presented at council meetings, and now I'm managing municipal projects and collaborating with many WSB staff across multiple groups. I know this varied experience is also not unique to me. I'll talk to colleagues and be shocked at the cool and unique work they are doing. You grow by having varied experiences and not just performing monotonous tasks. WSB provides that opportunity for growth.
What is one thing you want to tell the future leaders of WSB?
Future leaders should know that our people, our staff, are the most important asset at WSB. When they are encouraged to work on interesting projects they excel at their jobs, impress our clients and generate more work for the firm. I know our current leaders know this to be true, so as long as our future leaders are paying attention, I know WSB's leadership and talent pool will be strong going forward.